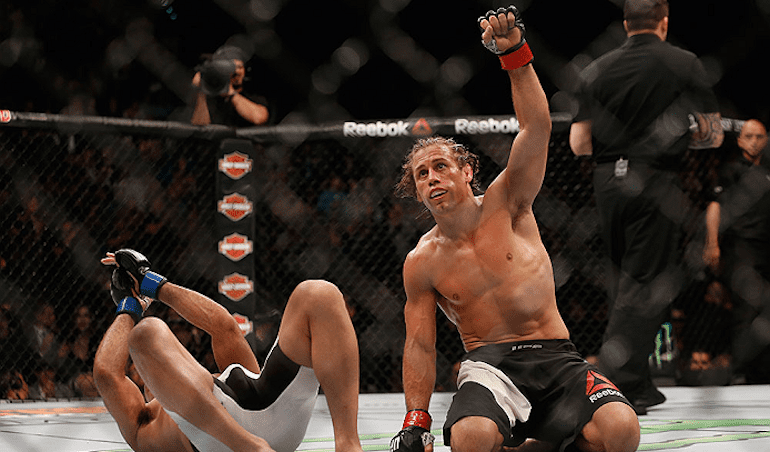 Urijah Faber has seen most everything throughout his 46 fight career.
The former WEC champion, 42, who was for a long time celebrated as the biggest star among the 'smaller' weight classes, has leaned into retirement in recent years after first stepping away from the sport following a 2016 win against Brad Pickett. A 2019 comeback win against Ricky Simon was followed by a knockout defeat to future champ Petr Yan — and since then, the Team Alpha Male head has concentrated on matters closer to home: his family and his gym.
That itch still scratches, though, and he seems more than open to answering the challenge of fellow veteran, the 38-year-old Cub Swanson, who is another distinguished alumnus from the WEC.
"I told Dana that I'll be 43 in May, that will be 20 years of combat," Faber told Ariel Helwani on The MMA Hour of a discussion he had about Swanson with the UFC boss. "I said, 'The dollar is not worth what it used to be two years ago. So let's talk again on that front. But I'd be down to throw down and fight.'"
Swanson and Faber have been linked to one another before, first beginning on the local scene in California.
"He was trying to make his name," Faber explained of previous talks. "He just got started, and I think he said no to the fight. I didn't really know who he was at the time, and I'm glad that he did, because they were going to pay him a couple hundred bucks and they were going to pay me, like, $1,000 at Soboba Casino.
"I like Cub a lot," Faber said. "He's a guy that's grown as an individual. He's getting better as a fighter. I would rather be 38 than 43 when we fight, but it sounds like something that would be a lot of fun. I'm always looking for things around my birthday (in May) to get my engine going and give me a reason to get in amazing shape."
And who better than Swanson to celebrate with?
"Absolutely, I'd be down to have a paid birthday present that makes me feel like I'm on top of the world.:
Comments
comments