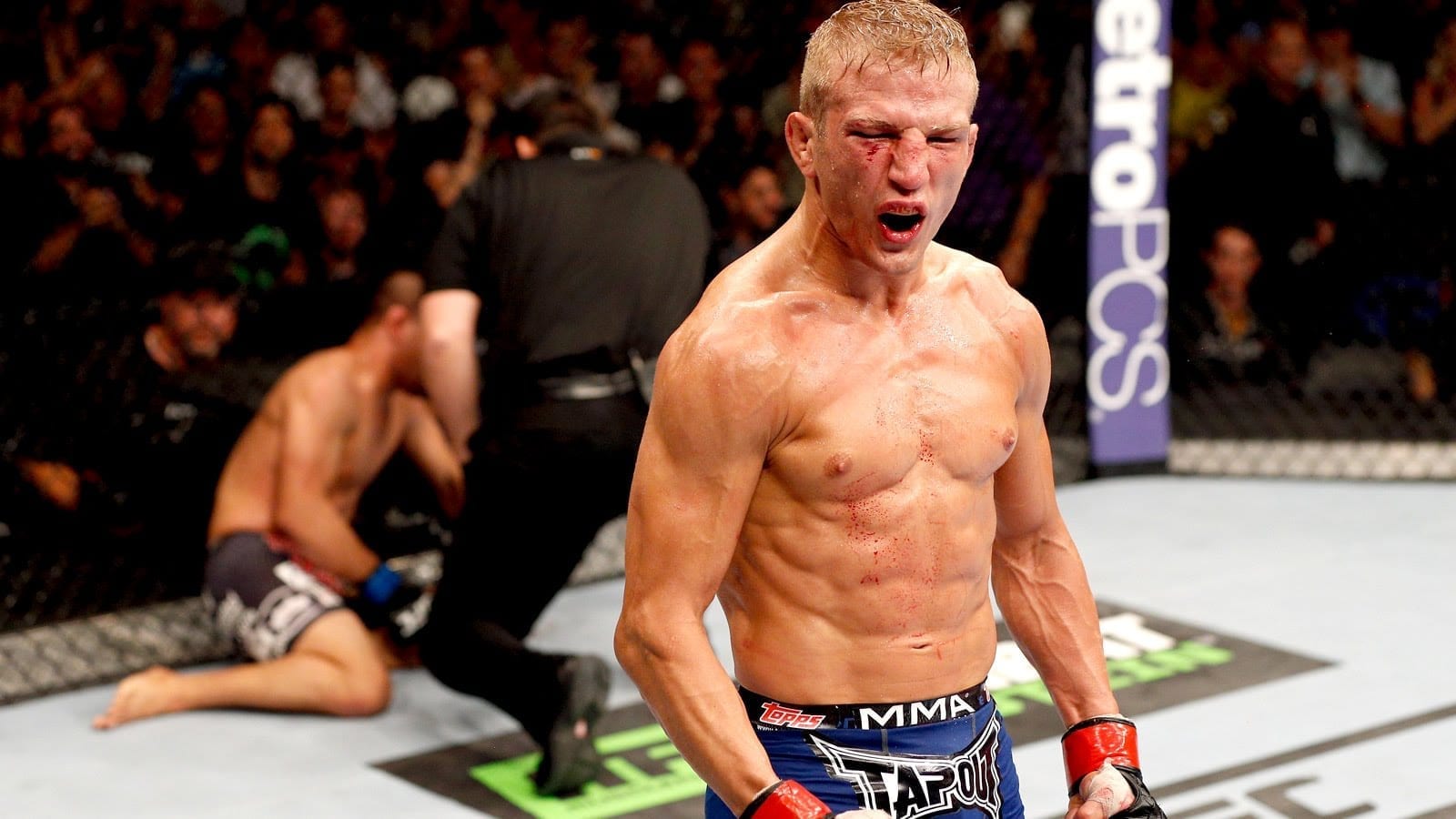 The spectre of T.J. Dillashaw's drug ban was hard to overlook last weekend.
Returning for the first time in more than two years after an enforced ban for ingesting the banned substance EPO, Dillashaw made moves to re-establish his title credentials at 135-pounds last weekend when he got the split decision nod after five hard-fought rounds with Cory Sandhagen.
Still though, the EPO ban loomed large throughout fight week with Dillashaw being forced to run the gauntlet of an inquisitive media who pulled few punches in their questions as to the differences of fighting on EPO and off of it.
Urijah Faber, the former training partner and coach of Dillashaw's at Team Alpha Male, has had a fraught relationship with his former friend since Dillashaw uprooted and move to Colorado to train to with Duane Ludwig — and says he didn't see any real improvement in Dillashaw's game throughout the five rounds with Sandhagen.
"He looked like the same guy," Faber told Submission Radio, as noted by MMA Fighting. "I mean, look, in the aftermath of having the guy on the team and then leaving the team and me always being dark on everything, I know a lot more stuff than most people do about the whole situation. But the one thing I can say is, the reason he's cheating is because he's a competitor. Like, not a fair competitor.
"He's a cheap-shot guy. He's a, you know, whatever it is. But the guy's whole intent and focus is to win. And if someone's a cheater because they don't believe in themselves, that's one thing. But if somebody does an actual assessment of what they need to gain. Whether it be conditioning or strength or whatnot, and then cheat because of that, there's a big difference.
"One is a mental weakness, and the other one is being a crafty cheat. You now, to gain financial and fame and whatever else. And he was able to do that. And the layoff, I think he used the time well and came back with, the same guy he always has [been], as an older guy who put on some size and whatever else he's been doing throughout the years.
"He's a bigger than he was when he started in the sport, and I think it plays to his favor. And he's always a competitor. I mean, that's a legit champion mentality guy when it comes to competing."
Dillashaw had maintained to the media that he got caught in his one and only time to take performance enhancing drugs, which was discovered days after his unsuccessful bid to seize the flyweight title from then-champ Henry Cejudo in January 2019 — but this is a narrative to which Faber doesn't subscribe.
"TJ's pretty close with a lot of guys on the team, and I've just heard in the years after he'd been gone what had been going down and what not," Faber stated. "I was never privy to anything. All I can say is, he got caught for EPO, whatever it was. That's all there's proof of and I'll just leave it at that.
"He knows. His family knows. Everybody knows what he was doing. It's not my business to put anything out there. Other people have gone out and said stuff about whether he was or wasn't. I know that he came to my team as a lifetime athlete who wrestled since he was a little kid and wrestled in college and worked out really, really hard and couldn't bust 143 pounds, and he was complaining about it.
"I've never done any of that stuff, so I don't really know what the big difference is, Faber said. "But from what I understand, there's big advantages. Now, I'm a guy that believes anything's possible, and I preach that to my guys and I preached that to him while he was on our team. I believed he could've been a world champion from the get-go, and I told him that."
Comments
comments