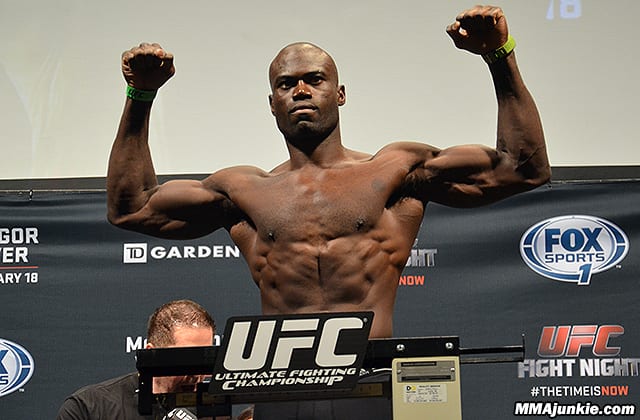 Uriah Hall has addressed fans and the UFC alike after the controversy which came from his failure to attend last weekend's weigh-ins ahead of his scheduled UFC St. Louis bout against Vitor Belfort.
Hall failed to report to the early weigh-ins during the two-hour window allocated to fighters, forcing the cancellation of the bout. Afterwards, it was reported that Hall had suffered extreme difficulties during his weigh-in, suffering a seizure backstage which precluded him from stepping on the scales.
Not only did Hall confirm the reports of a "mini seizure", he also stated that he suffered a "slight heart attack" backstage.
"I just wanted to clear some stuff up. I know there's a lot of miscommunication going on," Hall said to fans on social media. People think I punked out. I definitely want to apologise to Vitor and his camp, you know. I know it sucks to go through all that and not fight. I've been there man.
"For the record, I did make weight — I just failed to make it to the scale, which sucked. I've never had a problem cutting weight and what happened was I ignored some issues that happened prior and, you know, as a fighter we don't have sick days. I know some of you guys have sick days, I don't have a sick day. For me, it was just to show up and I showed up but my body was just not showing up with it."
UFC president Dana White was critical of Hall in the fallout of the cancelled fight, stating that the middleweight doesn't take his training seriously and that his health issues were as a result of a lack of dedication to a proper weight-cutting regime. White also stated that he was told that Hall was "partying" in Los Angeles a week before the bout.
Hall disputes these claims.
"It was a harder cut than normal because the injuries that I had didn't allow me to really cut the weight properly. As much as I neglected my safety and my health — which was the dumbest thing to do, I would never do that again. As far as clearing up the air… I heard I was partying in L.A. What else was I doing? I wasn't taking my training seriously, I wasn't following procedure," Hall said with a wry laugh.
"You mean after all of my career all of a sudden I'm going to party in L.A.? It's too funny, man. But that's what happens when you don't come out into the light; a lot of speculation.
"I was in the hospital, of course. It was probably the most traumatic experience I've ever had. I mean, I was in and out of it. I was conscious but I was unconscious. I knew what was happening but I was fighting over it. I was punching. I think I had a mini-seizure and at the same time a slight heart attack. My kidneys were just not good. Like I said, it was an injury that I just ignored and it just caught up to me and my body was just not responsive to it.
"I definitely wanted to clear the air. I'm getting better, following doctor's orders. Man, I was so ready to freakin' throw down but, you know, shit happens."
.
Comments
comments