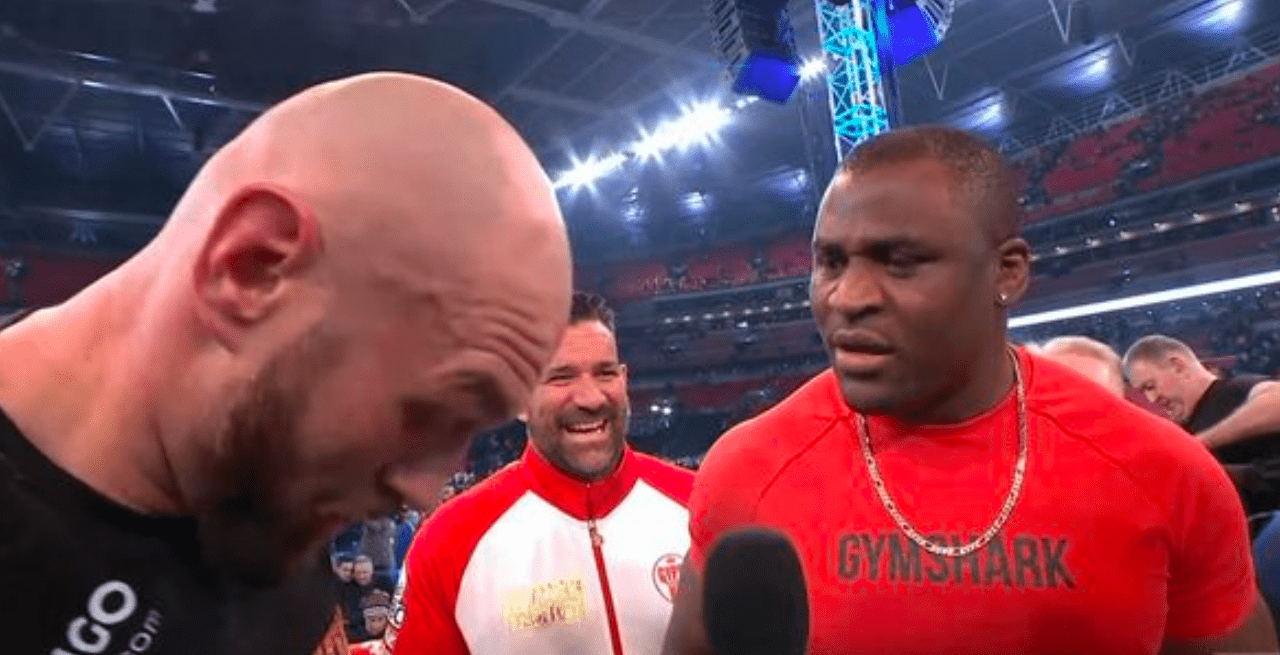 Tyson Fury says that his time as an active heavyweight boxer has come to an end but that isn't going to stop him chasing a few more paydays in the ring.
Fury, who outclassed and ultimately knocked out Dillian Whyte in front of a record crowd in Wembley Stadium on Saturday evening, confirmed in the post-fight press conference that he does indeed intend to hang up the gloves — but he says that his status as a now-retired boxer won't stop him from chasing what he referred to as 'Floyd Mayweather money'.
And it seems like the first man up might well be Francis Ngannou, the UFC heavyweight champion who played a cameo role in the ring after the culmination of Fury's final fight.
"Before I fought Deontay Wilder [trilogy], I was at my house in Vegas, and I said to Paris, 'This is going to be the last fight," Fury said addressing the media in London.
"I just don't want to do it anymore. She said, 'Yes, I'm happy, let it be the last fight.' Then after the fight I said to her in the shower, I said, 'It's definitely the last fight. There's no more of this.' I was happy with that decision, and I get a call from Frank [Warren] saying we can do a homecoming fight at Wembley and I said to Paris, 'I've got to go one more time. I've got to get the old boots out again.' It was a tough decision, because I was happy being retired.
"I come back for a big, big fight at home. It's been amazing. I couldn't have topped it off. It's been a fairytale few years. It's been absolutely more than I ever dreamed of as a kid and as an adult. I won every belt there is to win. There isn't nothing more I can do. I won every belt in the game. If this was a computer game, it would definitely be completed for sure."
Fury, though, was keen to add one caveat: exhibition bouts do not count as coming out of retirement.
"I will not rule out exhibitions, for sure," Fury explained. "Get some of that Floyd Mayweather money. I want to have fun. I'm an entertaining. I entertain, that's what I do best. I want to have fun.
"Francis Ngannou was here today, he's on my hit list in an exhibition fight. However he wants — in a cage, in a boxing ring, boxing gloves, UFC gloves, we can make it happen. I think everyone wants to see it. He's a monster of a guy. I'm a monster of a guy. So it will be a clash of the titans for sure."
Of course, there will be a few promotional hurdles to clear before this is a reality — but the odds of Ngannou signing a new UFC deal just became a whole lot longer.
Comments
comments