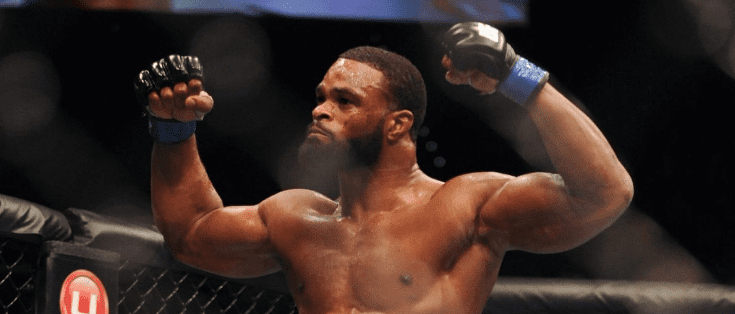 From the touchlines of the NFL to the basketball courts of the NBA, campaigns for social justice have bled into many global sports since the intense outrage following the death of George Floyd while in police custody earlier this year — and Tyron Woodley followed suit in the press conference ahead of this weekend's clash with Colby Covington.
Woodley, who has been a vocal proponent of the 'Black Lives Matter' movement, arrived to Friday's media event in Las Vegas wearing a t-shirt bearing the phrase and a hat styled after the red 'MAGA' hat typically worn by Covington reading, 'Make racists catch the fade again'.
He then referenced the Black Lives Matter movement in each answer to the media.
Earlier in the evening Dana White announced that the press conference would have a slightly different hue, with a selection of fighters from the undercard sitting on the stage, with neither Woodley or Covington attending. Afterwards, both men came out individually to speak with the media.
Beyond the obvious bickering which would have gone on between both men, it is unclear as to why the UFC opted to separate their two main event fighters at the media event.
Woodley and Covington have been engaged in a years-long feud, extending from when they were training partners earlier in their careers to today — with some sort of closure expected when they meet in the cage in the UFC's Apex facility in Las Vegas on Saturday night.
–
Comments
comments