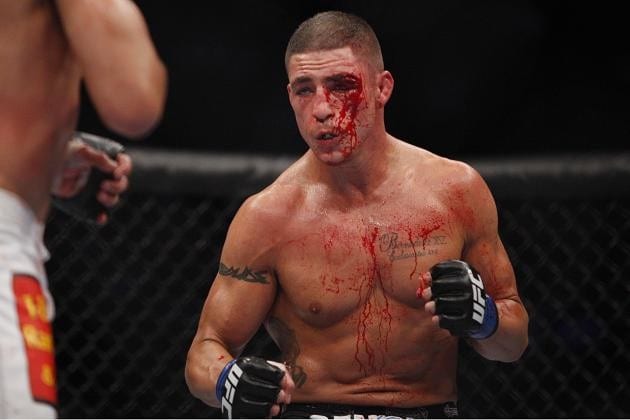 Diego Sanchez, the first-ever winner of 'The Ultimate Fighter', has been released from the UFC.
News of Sanchez's release comes just days after he was scrubbed from what was reported to be a retirement fight against fellow vet Donald Cerrone, despite Sanchez passing medical tests in advance of the supposed March 8 fight. However, Sanchez's controversial coach Joshua Fabia, as well as attorney Charles N. Lakin, reportedly failed to confirm to the UFC that Sanchez wasn't experiencing any short-term of medical ailments, per a report by Yahoo! Sports, leading to concern within the UFC ranks.
This news led to UFC boss Dana White cancelling the Cerrone fight, telling Yahoo!'s Kevin Iole that the organisation couldn't sign off on booking a fighter if there were concerns about his health.
Sanchez was subsequently cut by the UFC on April 27.
White also told Yahoo! that he has a great relationship with Sanchez, but considerably less so with his coach, Fabia.
"I have an incredible, amazing relationship with Diego and I like him very much and I hope he is OK," White said. "One of the sad things that happens, not just in fighting but in sports, and I want you to quote me on this, are these creepy weirdos who come from God knows where and leech onto fighters or athletes. They never do any good for them.
"Somehow, this creep got into Diego's life and has been controlling him. You saw the video of him chasing guys in the Octagon with a knife. How f*cking nuts is that? He goes to the commission and tells them that he's taught Diego this death touch. It goes on and on with this guy. He goes into the [fighter-broadcaster] production meeting and tells the commentators what they should be saying? The guy is batsh*t nuts. He worked his way into Diego's life and has gotten control over him. I just want the best for Diego."
White is referring to incidents in which Fabia used a knife in the cage to motivate his fighter, and another in which he claimed to have taught a "death move" to Sanchez in advance of one of his most recent fights.
Comments
comments