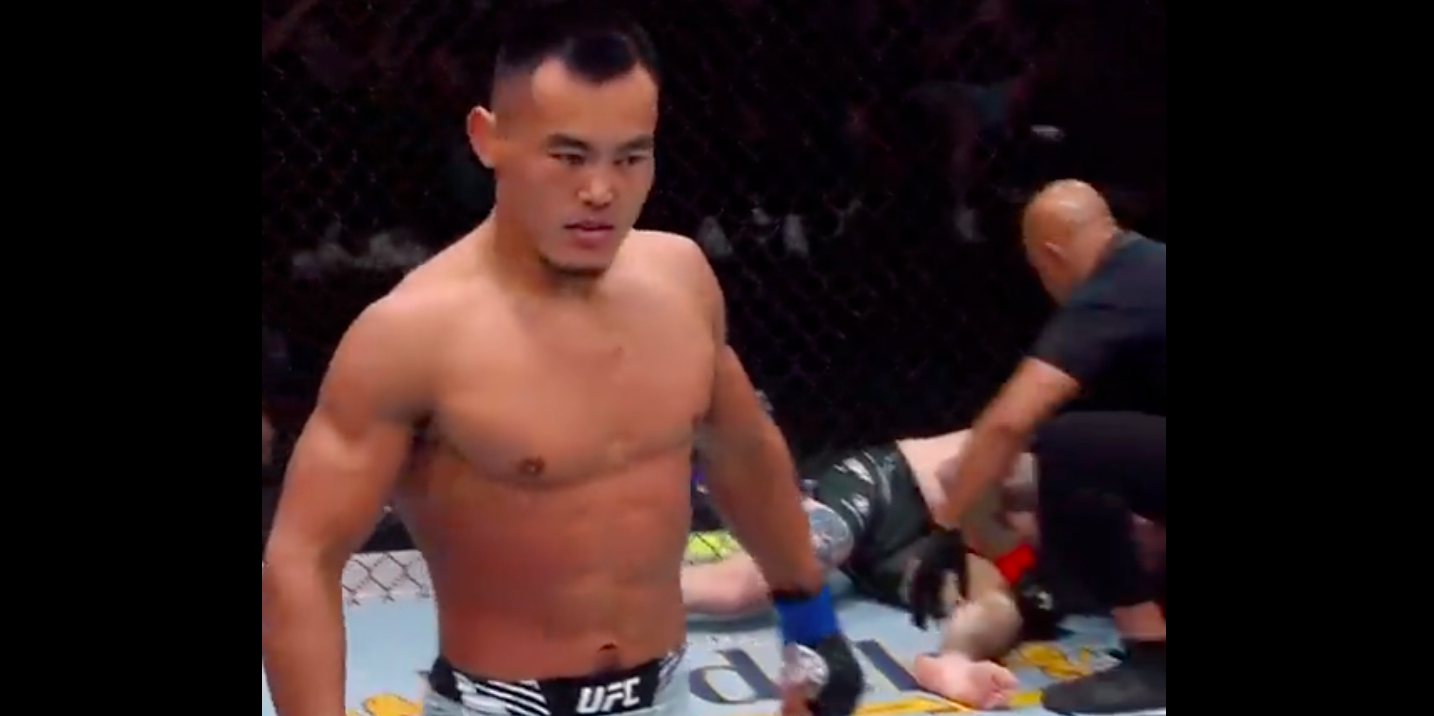 A UFC bout between Darrick Minner and Shayilan Nuerdanbieke which took place on the main card of last weekend's event inside the UFC Apex outside of Las Vegas is under investigation by a firm who track suspicious betting activity after irregularities were noted in the hours before the fight.
Chinese fighter Nuerdanbieke won the fight via first-round TKO just past the one minute mark after he landed a body kick which prompted American fighter Minner to visibly wince, with Nuerdanbieke scoring the win after landing an unanswered barrage of blows on the ground soon after. It was reported after the fight that Minner was suffering from a knee injury leading in to the fight; something which appeared to be confirmed when Minner grabbed his left knee at one point during the brief contest.
However, some strange betting patterns were noted in the hours beforehand with significant money being placed on Nuerdanbieke to win inside the first round — with even more money being placed on him even as odds shortened, making the line less attractive to prospective bettors, prompting questions as to whether or not Minner's potential injury was disclosed to gamblers — or even if a fix was in.
The reports were noted by a range of different sportsbooks and subsequently probed by a firm who monitor betting habits in Las Vegas and work in tandem with state regulators.
1️⃣:0️⃣7️⃣ is all it took!

Shayilan Nuerdanbieke gets the finish in round 1 #UFCVegas64 pic.twitter.com/eXqVGELmJj

— UFC (@ufc) November 6, 2022
what happened to Darrick Minner that everyone else knows?????? pic.twitter.com/7dRMzWcXnI

— Spinnin Backfist (@SpinninBackfist) November 5, 2022
The firm, called U.S. Integrity, told ESPN that efforts were made to suspend betting as soon as suspicions were noted.
"Our goal as always is to notify the industry of any potential nefarious, abnormal or suspicious activity as soon as possible, so they can take action as quickly as possible," U.S. Integrity president Matthew Holt said. "In this case, we hope that by sending a couple hours before the fight started, we may have helped prevent some more suspicious bets from getting through."
The allegations into irregular betting comes less than a month after UFC chief business officer Hunter Campbell notified each fighter on the roster that they were now no longer permitted to gamble on the outcomes of fights, citing concerns about the regulation of various state gambling rules.
Comments
comments