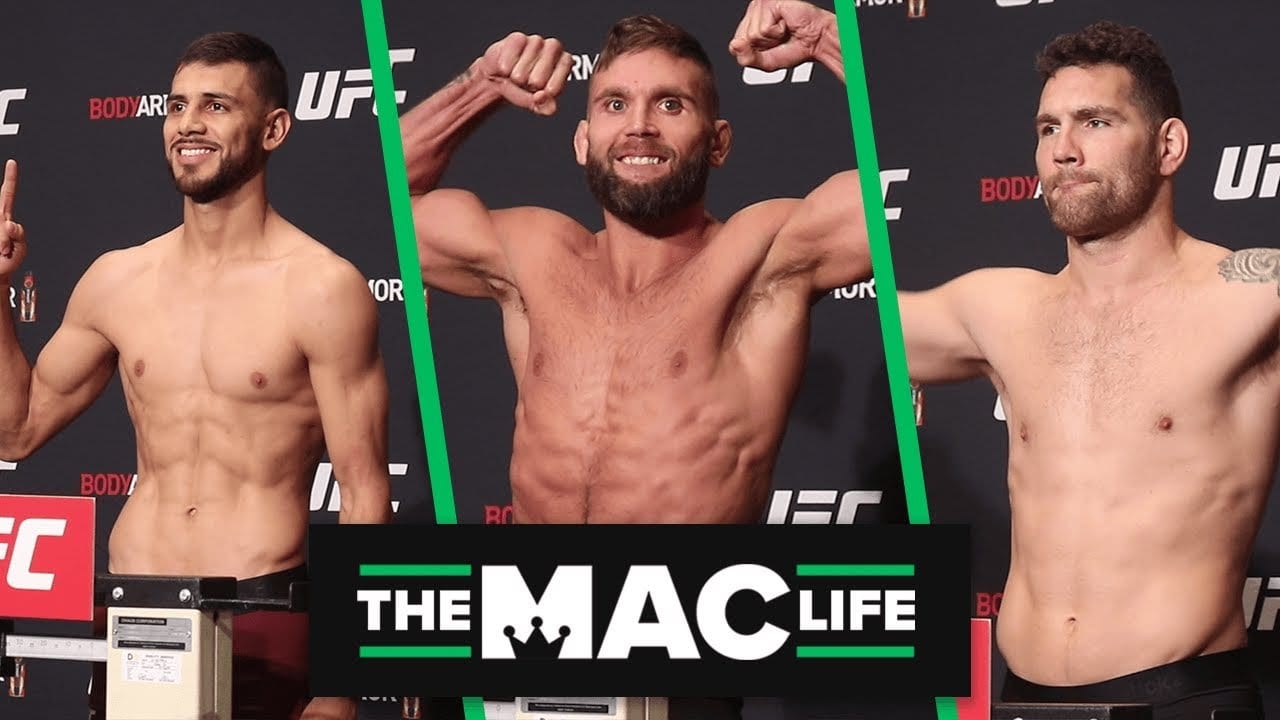 Former UFC middleweight champion Chris Weidman's pursuit of gold in the light heavyweight division begins on Saturday night after he registered a weight of 204-pounds ahead of main event clash with the undefeated Dominick Reyes.
Weidman becomes the latest fighter to transition up a division from 185-pounds in recent times, though those fighters have experienced varying degrees of success in their new homes. Both Thiago Santos and Anthony Smith have found new leases of life in the light heavyweight division since making a similar leap to the one Weidman makes on Saturday night. His old rival, Luke Rockhold, didn't fare so well in his move north, however, losing by second round knockout to Poland's Jan Blachowicz in July.
Weidman, of course, will be keep to avoid a similar fate and has already professed that he sees all roads leading to Jon Jones in his current trajectory. Time will tell when it comes to ambitions such as that but all will likely be for naught if he is unable to become the first fighter to defeat Dominick Reyes, currently listed at #4 in the UFC rankings.
View this post on Instagram
Elsewhere on the card, a heated co-main event between Jeremy Stephens and Yair Rodriguez will look to settle what has become a mini-feud between the pair spanning since their aborted UFC Mexico City fight last month which was ended just 15-seconds into the bout after Stephens was deemed unable to continue following an accidental eye-poke. Both fighters successfully made weight early Friday morning.
Two fighters missed weight; Deron Winn clocked in at 188.5 pounds for his middleweight fight with Darren Stewart, while Manny Bermudez hit 148 pounds for his featherweight debut (after moving up from bantamweight) against Charles Rosa.
UFC Boston weigh-in results:
MAIN CARD 
Dominick Reyes (203) vs. Chris Weidman (204)
Yair Rodriguez (145) vs. Jeremy Stephens (145.5)
Greg Hardy (264.5) vs. Ben Sosoli (264)
Joe Lauzon (153) vs. Jonathan Pearce (154.5)
Maycee Barber (126) vs. Gillian Robertson (126)
Darren Stewart (185) vs. Deron Winn (188.5)  —  Winn missed weight
PRELIMINARY CARD 
Manny Bermudez (148) vs. Charles Rosa (144)  —  Bermudez missed weight
Diana Belbita (125) vs. Molly McCann (125)
Kyle Bochniak (145) vs. Sean Woodson (144.5)
Randy Costa (134) vs. Boston Salmon (135.5)
Sean Brady (167.5) vs. Court McGee (170)
Brendan Allen (185) vs. Kevin Holland (183.5)
Tanner Boser (247.5) vs. Daniel Spitz (240)
Comments
comments