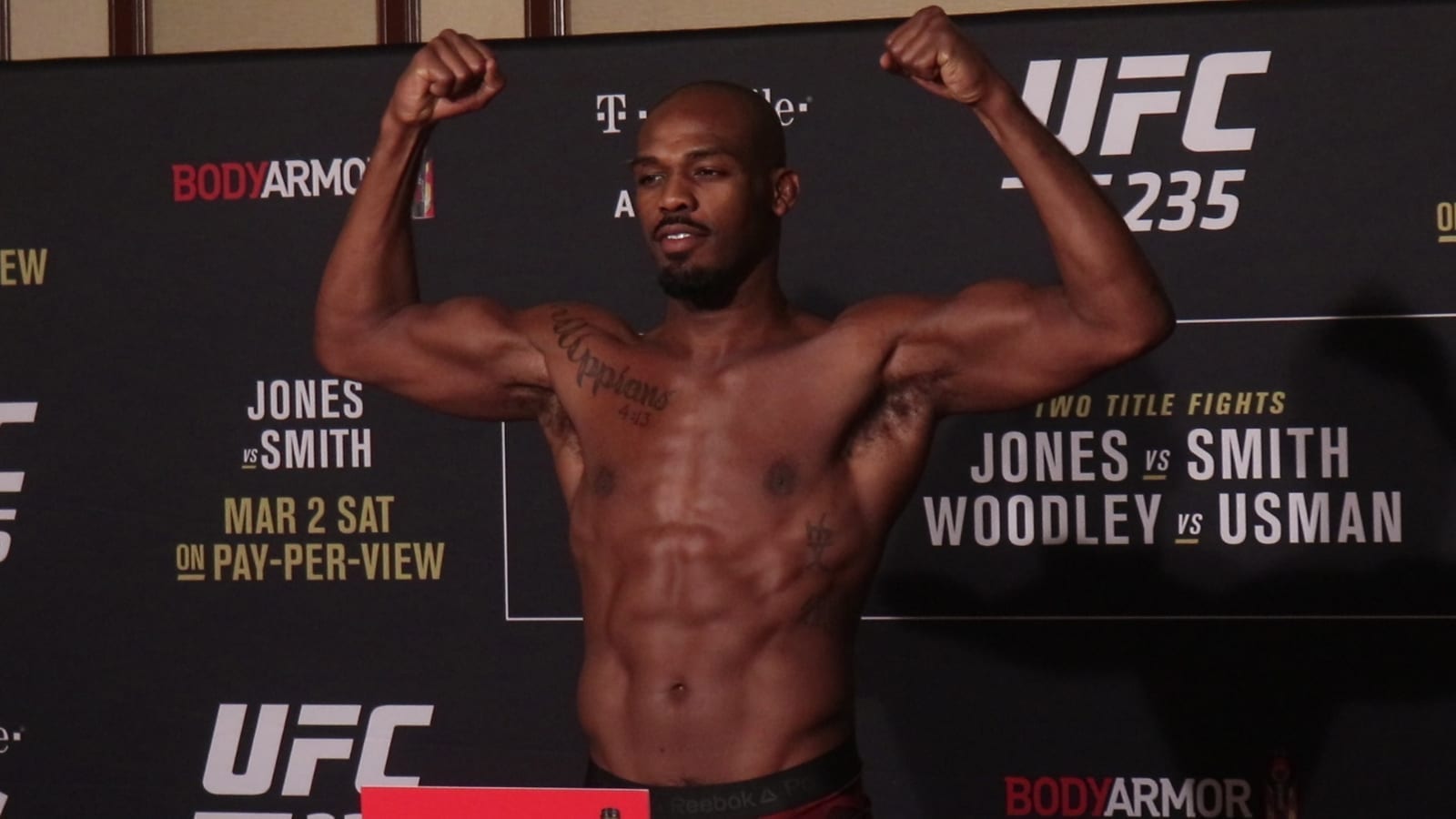 The battle lines are firmly set at UFC 235. Four men will enter the cage in two championship bouts from Las Vegas late on Saturday night, and two of those will be successful.
For the first time since he won the UFC light heavyweight title from Mauricio 'Shogun' Rua, Jon Jones will enter a UFC bout just a few short weeks removed from his last. In December, Jones re-established himself as the premier player at 205-pounds, easily defeating Alexander Gustafsson — a fighter so often cited as Jones' 'kryptonite'. For various reason of which you are no doubt all too familiar, Jones' career has been stunted by a variety of reasons in recent times which have restricted him to just one fight per calendar year throughout the last five years.
'Bones', who still holds the record as being the youngest light heavyweight champion in history, will only be improved by the measure of momentum and consistency which comes with repeated octagon outings. Jones earned his first title shot by besting then-undefeated Ryan Bader in 2011 and was drafted in to replace former teammate Rashad Evans against reigning champ 'Shogun' Rua just five weeks later. What followed was one of Jones' finest career performances, refreshingly free of some of the controversy which would come with time.
Jon Jones vs. Anthony Smith give their last thoughts on tomorrow night's main event. pic.twitter.com/6lcV7AU2qf

— TheMacLife (@Maclifeofficial) March 2, 2019
Anthony Smith will pay little attention to omens such as this. While Jones does appear at his best when he is regularly competing, so too does 'Lionheart'. For a fighter who was once dangerously close to being designated with the 'journeyman' tag, Smith has shone in recent performances against top class competition. Three successive wins against Volkan Oezdemir, Rashad Evans, as well as Shogun, have all felt the brunt of Smith's pinpoint striking all within the span of a four-month period last year.
Anthony Smith doesn't think it takes Jon Jones overlooking him for him to win.

FULL –> https://t.co/W4EVRcglog pic.twitter.com/97uy5Bcgdz

— TheMacLife (@Maclifeofficial) February 28, 2019
Though their statures are similar Jones will enjoy a reach advantage against Smith in Saturday's bout, a natural advantage which the champion has honed to perfection throughout his career. Smith also struggled in the stand-up against Hector Lombard, who has a much shorter reach, though he did uncork a late knockout to claim victory.
Anthony Smith will be game, but will it be enough? Our money is on a Jon Jones submission victory. 
Saturday's second title fight comes in the somewhat top-heavy welterweight division, where Kamaru Usman was chosen to be Tyron Woodley's next foil at 170-pounds, just don't mention it to Colby Covington. It is difficult to argue otherwise. 'The Nigerian Nightmare' is unbeaten in the UFC, something which Covington cannot claim (Warlley Alves sends his regards), which explains the UFC matchmakers' decision to opt for Usman instead Covington's more acquired taste of fight promotion.
Tyron Woodley plans on making case to be considered welterweight GOAT at UFC 235 | https://t.co/7NBzxQIK9w pic.twitter.com/YvfCIJDswP

— TheMacLife (@Maclifeofficial) February 28, 2019
When two solid wrestlers such as this meet, so often it comes down to who has the better tools on the feet and, judging by the nuts and bolts from their fight records, it stands to reason that the champion has the advantage here. Usman is an effective striker, but that is more borne from persistent, walk-forward pressure than a particular strategised approach. Woodley, on the other hand, has quicker, more concussive hands — the biggest clear advantage between either of the two main in Saturday's co-main.
This one has five-rounds written all over it and our best guess is that Woodley wins at least three of them.
QUICK SHOTS
Ben Askren vs. Robbie Lawler
Much-vaunted wrestler Ben Askren finally makes his debut after the historic unusual 'trade' between the UFC and ONE Championship which saw Demetrious Johnson move in the opposite direction. He hasn't drawn a 'gimme' though, as former 170-pound supremo Robbie Lawler will await him.
Ben Askren wants his 165-pounds division and he wants it now!

FULL –> https://t.co/lgSUKHZtnK pic.twitter.com/t2SAhs8Ff4

— TheMacLife (@Maclifeofficial) March 1, 2019
Lawler hasn't been especially active lately so it will be difficult to determine ahead of time how he will fare against the world-class wrestler, but he has always displayed a solid defence against wrestlers (see the Matt Lindland fight in 2010 for an example). Askren has had a modicum of trouble against certain strikers in the past, with Luis Santos causing him a LOT of trouble, but we expect Askren's wrestling to get the job done.
Decision, two rounds to one.
Zabit Magomedsharipov vs. Jeremy Stephens
The Russian is good. He is very good. There is a very realistic chance that he is already among the top two or three at 145-pounds but that he just has to file the octagon time to show that. He will get his chance against the very durable, always game yet just not quite as skilled Stephens tonight.
Zabit by decision, or late stoppage.
Cody Garbrandt vs. Pedro Munhoz
Former champ Garbrandt has appeared to zen all week in Las Vegas as he prepares to start anew in he 135-pound division following a pair of defeats against heated rival T.J. Dillashaw. Munhoz ain't no easy fight as Brett Johns and Bryan Caraway have recently found out.
Garbrandt, though, will get back on track via first round stoppage.
Notes:
Johnny Walker, who faces Misha Cirkunov on the prelims, is a star in the making.
Mickey Gall fights Diego Sanchez, the longest tenured member of the UFC roster.
Cody Stamann vs. Alejandro Perez could be a dark horse for one of the night's most entertaining fights.
Weigh-in Results:
MAIN CARD 
Champ Jon Jones (205) vs. Anthony Smith (204.5) – for light heavyweight title
Champ Tyron Woodley (170) vs. Kamaru Usman (169) – for welterweight title
Ben Askren (170.5) vs. Robbie Lawler (170)
Tecia Torres (115) vs. Weili Zhang (116)
Cody Garbrandt (136) vs. Pedro Munhoz (136)
PRELIMINARY CARD
Zabit Magomedsharipov (146) vs. Jeremy Stephens (146)
Misha Cirkunov (206) vs. Johnny Walker (205.5)
Alejandro Perez (136) vs. Cody Stamann (135.5)
Mickey Gall (170.5) vs. Diego Sanchez (170)
Charles Byrd (185) vs. Edmen Shahbazyan (184.5)
Macy Chiasson (136) vs. Gina Mazany (135.5)
Hannah Cifers (114) vs. Polyana Viana (115.5)
Comments
comments