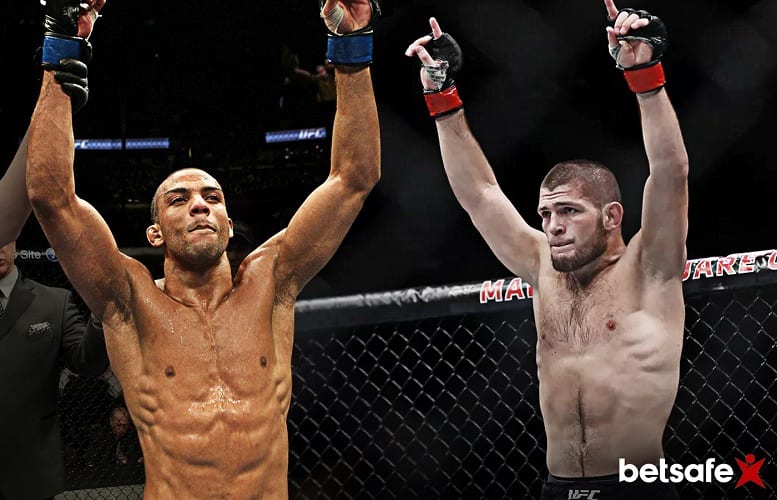 A pivotal lightweight showdown between top ranked contenders Khabib Nurmagomedov and Edson Barboza serves as the co-feature to Saturday's UFC 219 from Las Vegas. On the surface it may seem as a classic striker vs. grappler match-up with Nurmagomedov's suffocating top control taking on the wild, unpredictable Muay Thai assault but the reality is that there is a whole lot more nuance to the pairing than just that.
Nurmagomedov, the undefeated Russian, is one of the 155-pound fold's more interesting fighters. His 24 successive victories, the last eight of which occurred in the UFC, have come with relative ease — with at least two notable exceptions. Khabib's bread and butter is to grab hold of his opponent, wrestle him to the ground and unleash a ferocious ground assault while trapping an arm, or working towards a submission. His grappling game is so oppressive that any nullification of it can starkly neutralise his offence, such as the bout with Gleison Tibau in which he failed to complete even one takedown. In that particular bout the Russian was awarded a contentious decision, with 5/6 media member's scoring ringside awarding the bout to Tibau.
On the other hand, when he's firing as he was against Abel Trujillo where he landed 21 takedowns inside 15 minutes, he doesn't afford his opponents an opportunity to even begin to orchestrate a gameplan to defeat him.
For a special deal for new Betsafe customers, click here. 
In Edson Barboza, Nurmagomedov faces the biggest challenge of his professional career thus far — particularly as he proved himself to be too stationary a target on several occasions in his last fight over a year ago with Michael Johnson. Barboza is as clinical a striker as there is in the UFC's 155-pound division — and perhaps the best kicker on the entire roster. His highlight reel has it all; wheel kick KOs, body kick KOs. His switch kick is lightning quick.
Some Muay Thai strikers would be put off throwing too many kicks against such a seasoned wrestler but the sheer speed in which they come, as well as the fact that Khabib tends to prefer to take opponents down from the clinch, should afford the Brazilian ample time to frustrate Nurmagmedov.
Unsurprisingly, Nurmagomedov is the favourite at 1/3 but Barboza is a VERY live underdog at 23/10.
The Pick
Barboza will frustrate an overconfident Nurmagomedov early, stifling him with leg kicks and sharp-shooting from outside of clinch range. Khabib will attempt to force the fight as it progresses but his mobility will be limited by the scything kicks, hampering his movement and forcing him into being a more stationary target. So long as Barboza is able to keep his distance, he will likely win a fairly non-controversial decision.
Comments
comments