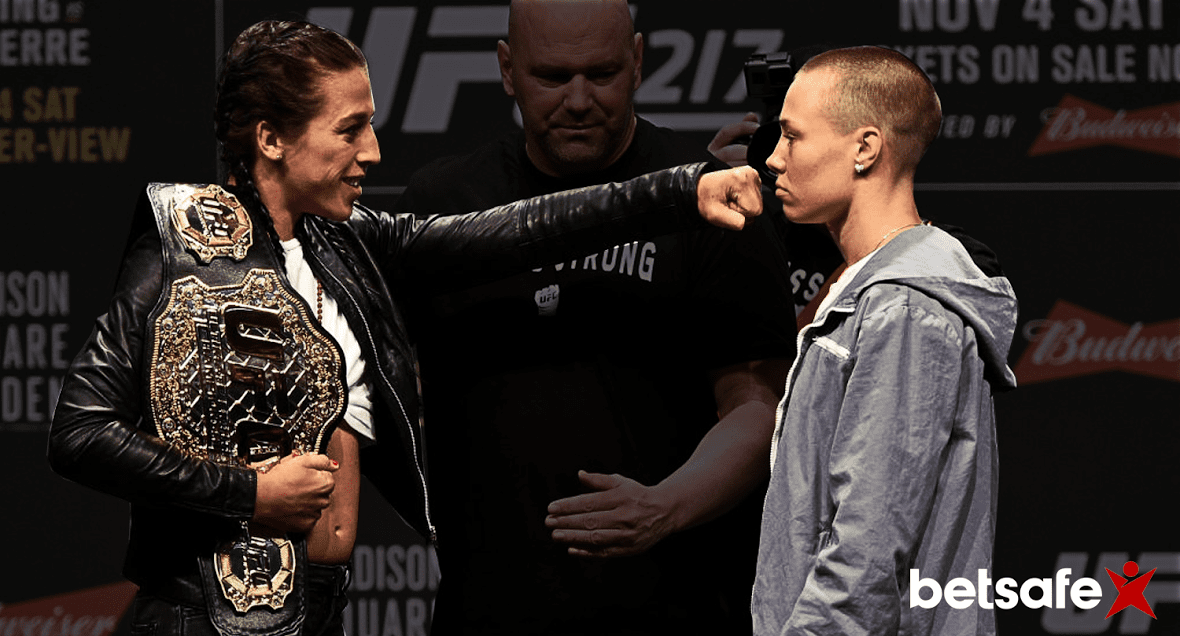 At UFC 217, the promotion is — as they did last year in New York — playing host to three title fights at the top of the bill. The women's strawweight, men's bantamweight and middleweight belts are all on the line, and kicking off our trio of main events is Joanna Jedrzejczyk vs. Rose Namajunas.
In Jedrzejczyk, we have the most dominant female fighter currently involved in mixed martial arts. Undefeated in 14 professional contests, and rarely in trouble, Jedrzejczyk represents the new age of women's fighter after Ronda Rousey's pioneering run in the sport. With Namajunas, it's her second go at the belt (although first meeting with Jedrzejczyk), and with it comes the biggest challenge to date.
Jedrzejczyk is an elite level striker, mixing up her striking at multiple levels. Body shot to head combinations mixed in with kicks, Jedrzejczyk hits her opponent with four or five punches at once. Along with that, she has an ingrained mean streak, constantly looking for the kill and applying the pressure until she finds it.
Namajunas is by no means without striking talent. While perhaps not as ruthlessly aggressive as Jedrzejczyk, Namajunas has fantastic technique with her punches and (particularly) her kicks. Her real talent comes in the scrambles however. Once a clinch or grappling exchange is found, Namajunas has a real knack for finding an advantage, and sinking in any one of her submission arsenal.
The fight then, is a simple one to break down. If Namajunas can get Jedrzejczyk to the mat, she has a good chance of finding a way to the champion's back, and looking to sink in the choke. If she cannot do that, then realistically, she will struggle against the gritty offence of Jedrzejczyk. Add into that a long held belief that Namajunas has the tendency to wilt when things aren't going her way, and we could see Jedrzejczyk looking in a different class.
There's no other way to read the odds other than to see Joanna Jedrzejczyk as the heavy favourite at 1/6, while Rose Namajunas is sitting at 4/1.
The Pick:
From the above odds, you get a reflection of Jedrzejczyk's chances. Her dominance as women's champion is becoming undeniable, and her performances against fighters who could be argued as having more dangerous weapons than Namajunas means it's hard go against her. While every dynasty and reign in combat sport must fall, Jedrzejczyk appears to be very much in her prime going into UFC 217.
Namajunas is up against it. There are questions about her mental toughness, which appear particularly relevant against such an intense opponent. Her grappling is phenomenal, but few have been able to take the champion to the mat and keep her there long enough to do damage. However, if Namajunas acknowledges her role as the underdog, shirks off the pressure and comes forward to win, she could yet surprise plenty of viewers.
The pick is Joanna Jedrzejczyk via TKO.
You can join Betsafe today to place your bets for this weekend's UFC 217 from Madison Square Garden in New York City. Special offers are available for new customers and you can view all of the details via the Betsafe website.
Comments
comments