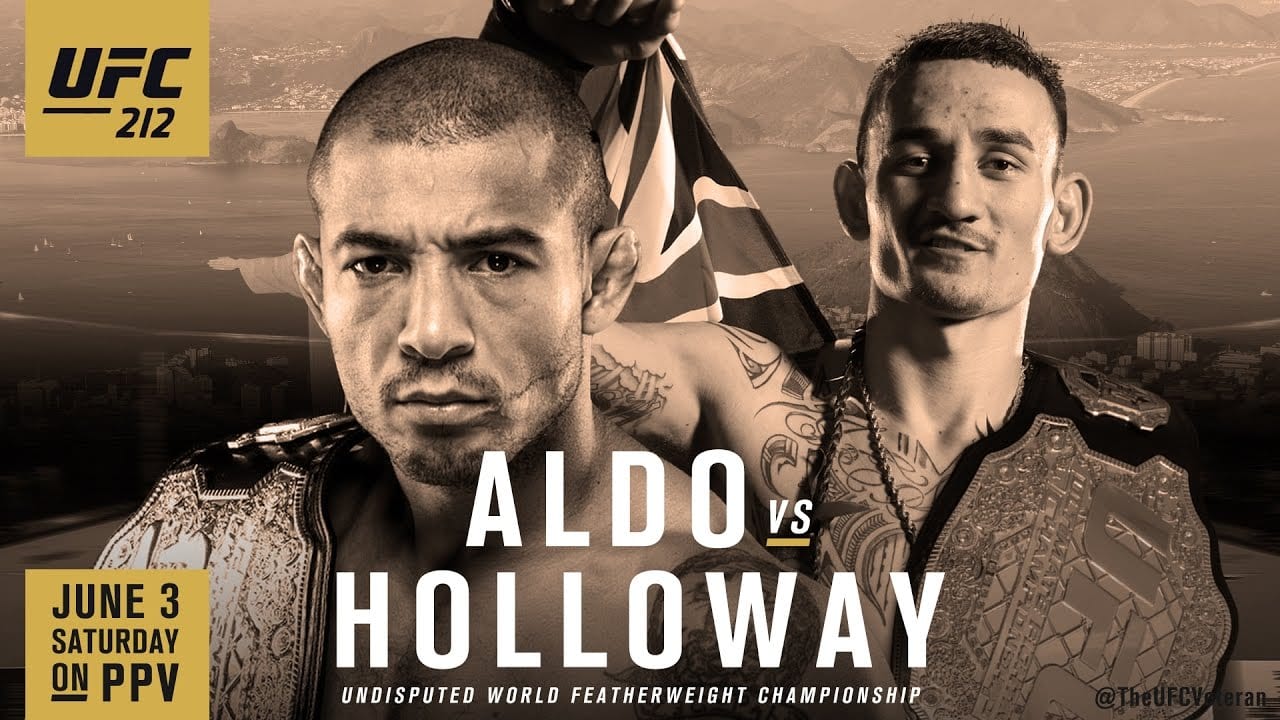 Image credit to @TheUFCVeteran
For the first time in 18 months the UFC's featherweight title will be contested in the cage at UFC 212 as José Aldo, one of the greatest featherweights in history, takes on the challenge of Max Holloway, winner of ten successive bouts at 145-pounds.
While the spectre of Conor McGregor looms somewhat large over the UFC 212 main event, the Irishman's status as current 155-pound champion, as well it appearing likely his next move will be in the direction of a boxing ring, it is fair to say that Aldo and Holloway are the two top active featherweight fighters on the planet and a suitable pairing from which to determine the division's undisputed champion.
Elsewhere on the card there is a pivotal battle between Claudia Gadelha and Karolina Kowalkiewicz, while the legendary figure of Vitor Belfort makes the walk to the octagon for the final time in front of his compatriots.
Check out below for our main card picks.
José Aldo (c) vs. Max Holloway (interim champ)
Whether he cares to admit it or not, José Aldo's 13-second defeat at the hands of Conor McGregor has diminished his standing at 145-pounds. His previous decade-long unbeaten streak had heralded Aldo as being almost unbeatable but one swing of Conor McGregor's left hand proved that the Brazilian is nothing more than flesh and bone, thoroughly exorcising the aura of invincibility which had surrounded him previously. However, Aldo is still clearly a threat in the division as evidenced by his polished performance against Frankie Edgar last July but if he is still finding his feet in the cage post-McGregor, Max Holloway has all the tools to cause the Brazilian fits.
Holloway's impressive winning streak has seen him handle several different fighting styles in recent fights but he hasn't faced as vicious a striker as he will in José Aldo on Saturday night. Holloway's range and shot selection have stood him apart from his peers (literally, when it comes to distance management) and allowed him to implement his striking game before exiting at an angle and repeating this process. Aldo's much vaunted leg kicks must be employed to slow the Hawaiian's movement and allow Aldo a more stationary target to throw at but expect Holloway to unload each time that Aldo moves into range for this style of attack.
The Pick: Expect a tight affair though the first two rounds, with Holloway beginning to take charge toward the end of round three en route to a late fourth round TKO or judges' decision victory.
Claudia Gadelha vs. Karolina Kowalkiewicz
It says a lot about Joanna Jedrzejczyk's dominance of the UFC strawweight division when the co-main event of a huge show such as this which features two of the best female fighters on the planet and it's essentially a contest to see who's the next best fighter in the world when compared to the dominant Polish champion.
Intestesingly, both of these fighters have caused Jedrzejczyk trouble when they stood opposite her in the octagon. Kowalkiewicz won a round (and some say two), as well as knocking down her opponent, when she challenged for the title back at UFC 205 in November while Gadelha's oppressive grappling game was enough to steal a few rounds from Jedrzejczyk across the both of their meetings.
The Pick: A three round fight heavily favours Gadelha. Kowalkiewicz arguably has the better conditioning but that's a factor which would potentially have fare more impact across a 25-minute fight. In three five minute rounds, Gadelha should have enough in her tank to avoid the Pole's striking game and employ a takedown-heavy grappling assault on the way to a unanimous decision win.
Vitor Belfort vs. Nate Marquardt
Whether or not Vitor Belfort retires from mixed martial arts (he's flip-flopped while making that call in recent weeks) it seems probable that this is the Brazilian's final fight under the UFC banner. With just one win in his last five bouts (against Dan Henderson, the only fighter he's faced older than him) it's difficult to know what to expect from Vitor Belfort nowadays. His last performance against Kelvin Gastelum announced candidly that his days of hanging with the young guns in the middleweight division are over but in Nate Marquardt, a fighter who is also on the senior side of thing, and you have a winnable fight for the Brazilian.
Marquardt has displayed power in recent bouts, knocking out both Tamdan McCrory and CB Dolloway but the 38-year-old has displayed evidence that his own chin isn't quite capable of dealing with the type of assault that Belfort will attempt to bring.
The Pick: Nate Marquardt is a wily veteran so you would expect his chances to increase the longer the fight goes but our somewhat sentimental pick is for Vitor Belfort to win by early second round TKO.
Paulo Borrachinha vs. Oluwale Bamgbose
A battle of two prospects pits the 9-0 Borrachinha against the 8-2 Bamgbose in a middleweight bout which could have implications on future contendership at 185-pounds, though any talk of that is premature for the time being.
Borrachinha is 1-0 in the UFC thus far, with his win being over South African fighter Gareth McLellan (who is no longer part of the roster), though it was hard to dispute the efficiency of his work back in March as he won the bout around 75 seconds into the first round.
Bamgbose is a bit more battle tested, though his efforts in the octagon have yielded a 1-2 UFC record to date with a KO win against Daniel Sarafian sandwiched in between losses to Uriah Hall and Cezar Ferreira.
The Pick: This one could go either way but we're edging towards Bamgbose getting the job done via decision.
Erick Silva vs. Yancy Madeiros
There is some alternate timeline out there where Erick Silva is one of the most popular fighters in the UFC. The Brazilian welterweight's undeniable skills hasn't yet yielded the type of results you might have expected from someone so talented and his momentum has suffered as a result. In his 13 bouts in the UFC, Silva has failed to put more than two wins in a row together and as soon as it looks like he might be set to put a run together, a poor performance brings it to and end and him back to the drawing board.
Yancy Madeiros is the ideal foil for Silva at UFC 212. His recent form has also been patchy (wins over Sean Spencer and John Makdessi, losses to Dustin Poirier and Francisco Trinaldo) but Madeiros is a versatile and aggressive fighter who will likely engage Silva wherever he wants the fight to go.
The Pick: Little separates these two on paper so the cacophonous support of the Brazilian fans might just be enough to get Silva over the line as he wins by decision.
Comments
comments