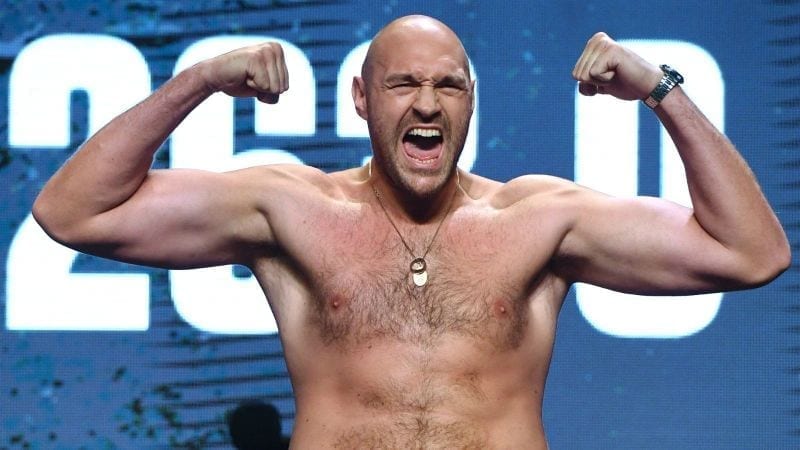 Tyson Fury has once again stoked rumours that he will one day soon step into a boxing ring opposite UFC heavyweight champion Francis Ngannou.
Fury, the WBC heavyweight champion who is slated to defend his title in a couple of months against fellow Brit Dillian Whyte, has stated on several occasions now his interest in trading leather with Ngannou — and again talked up the potential of a champion vs. champion matchup in recent comments to ESPN.
"Yeah, he's definitely a machine, that's for sure," Fury said to Max Kellerman of the UFC's heavyweight champ. "He's definitely a good puncher and all that, and let's face it, it's not a wrestling match, or no grabbing or anything.
"It's just a stand-up punching battle with small gloves on. He's got big power, so have I, whoever lands first will get knocked out, so I'd be interested in that. But like I say, Dillian Whyte's a much harder challenge than Francis Ngannou at this moment for me, so I only focus on Dillian Whyte for the next fight, which is to be announced very shortly."
While there are numerous obstacles in the way of any boxing match between Fury and Ngannou, 'The Gypsy King' has previously outlined the ruleset under which he would like to compete — calling for the fight to take place with 4oz MMA gloves rather than boxing gloves, a factor which would force both men to presumably adapt their fighting styles.
Ngannou, who defeated Ciryl Gane last month in defence of his title, is facing knee surgery in March and will likely be on the injury list for an extended spell meaning that any talk of a Fury fight is just that — talk.  However, the Cameroonian has still not agreed terms with the UFC on a new contract to extend his stay with the company and if no agreement is met in the coming months, reports indicate he will be free to step into a boxing ring without requiring the UFC's approval.
Comments
comments