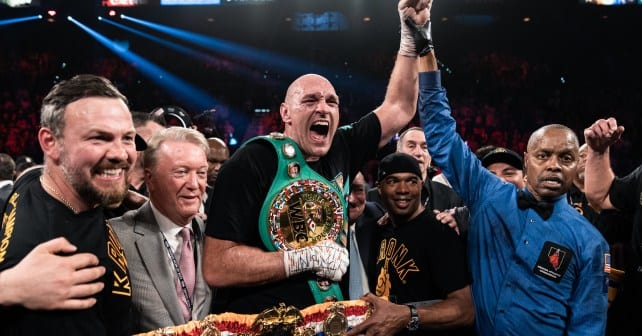 We could see Tyson Fury and Deontay Wilder cross paths in Australia if live crowds don't return to the United States in the near future.
According to Fury representative and Top Rank promoter, Australia or New Zealand have emerged as front runners due to their success in minimising the effects of the coronavirus that has left audiences off the cards across the world.
"Sydney is the best option. Right now Sydney would be a favourite to host this fight," Arum said, speaking to FoxSportsAU.
"Sydney works. It's an English-speaking country, with great people, great sports fans, great facilities and a history of doing great events. I have extraordinarily good feelings about doing another big event in Australia.
"We did the Pacquiao-Horn fight with Lonergan in Australia and it was a very successful event that was watched live in the US by five million people on ESPN."
Unlike the UFC, which is seeing title fights being put together despite no attendees, the boxing model — particularly for fights like Fury vs. Wilder — finds the lack of ticket sales and a fate harder to overcome.
Especially, Arum says, when one of the stars commands such a passionate fanbase.
"When we did Fury and Wilder in Las Vegas in February something like 8000 fans travelled to the event from the UK to support Tyson Fury. The way I understand it those people would now need to quarantine in a hotel room for 14 days if they travelled to New Zealand for the fight," Arum said.
"I've told Dean Lonergan that makes the New Zealand proposal a tricky one but there is certainly merit to it, given they are up and running immediately so I'll have to see what he comes back with."
"We have to do this fight this year. It's a massive event and a tremendous fight so if we could do it on a Sunday in Sydney, or potentially in New Zealand, and beam it back to the US live on ESPN in prime time that would be fantastic."
Comments
comments