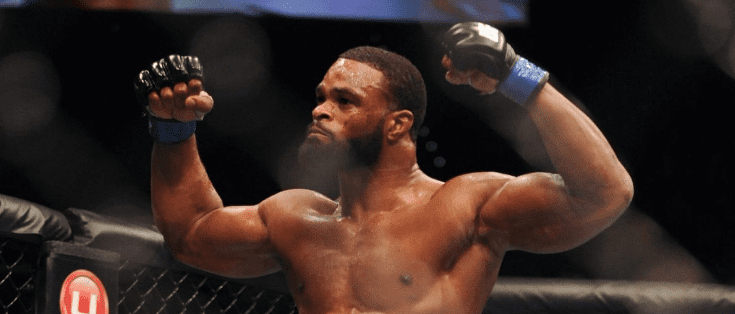 With reports emerging that the UFC are aiming to host a fight between Colby Covington and Darren Till in London this March, UFC welterweight champion Tyron Woodley would rather the promotion reconsider.
Entirely, he admits, for selfish reasons.
Woodley and Covington have appeared on a collision course ever since Covington claimed the interim welterweight title last year and the pair cultivated a rivalry based on their time training together and obvious personal differences. With Woodley now facing Kamaru Usman on March 2, the champion is left eyeing Covington's next moves with interest, as the contest still appeals to MMA fans.
With that in mind, a Covington vs. Till fight leaves Woodley somewhat tentative.
"If I was the UFC, and they know I want to fight him and they know I want to fuck him up, I think they should let him wait," Woodley said. "Because if you let him fight a very dangerous Darren Till, he ain't me. Colby Covington ain't going to hit somebody and make them drop to the canvas. He's going to hit with rabbit punches and put himself in a position where he could lose."
Not to mention that should the Liverpudlian emerge victorious, it leaves the 170-pound title picture muddled.
"So what happens if Darren Till beats Colby, does he rematch after I just finished him?" said Woodely. "No. Once again, it's not my job to promote but maybe they should just let him sit there and take the punishment and not make money for a couple months and let me keeping fighting and getting momentum behind me and then [he can] come and get this hell.
"I really don't want anybody else to fight him because I think he's going to lose. I don't want Ben [Askren] to fight him, I don't want Till to fight him, because I think those guys will beat him and it'll mess me up to fight Colby. Selfishly."
Comments
comments