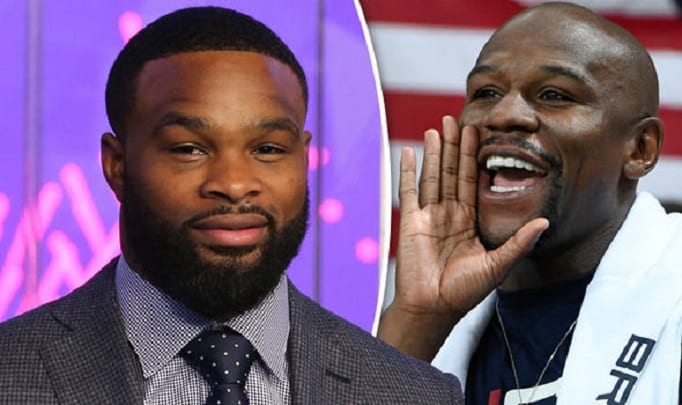 Tyron Woodley, the UFC welterweight champion, claims that he is training Floyd Mayweather ahead of what he says will be "a few" MMA bouts.
Mayweather, the expert self-promoter that he is, has been stoking the flames of a potential mixed martial arts debut in recent months, going so far as to say that he could make upwards of one billion dollars for a stint in the UFC.
While these statements have been met with incredulity by most who have heard them, Woodley doubled down on the speculation by telling TMZ that he has offered to train Mayweather for his potential mixed martial arts debut.
"Floyd Mayweather is interested in taking an MMA bout, maybe a few of 'em," Woodley said.
"So, who better than 'The Chosen One' to teach him the ropes on how we get off the ropes and get in the cage?"
Last December, after UFC president Dana White stated that he was in negotiations with Mayweather to fight in the UFC, Woodley offered his services as a trainer to the undefeated boxer.
Mayweather would be at a tremendous disadvantage against any seasoned MMA practitioner he might hypothetically face in the UFC. As noted by several analysts, the generally accepted footwork, spacing and movement employed by top boxers wouldn't be so effective in mixed martial arts with its much expanded skillset.
That said, given the massive public interest generated for last year's blockbuster Mayweather vs. McGregor boxing match in Las Vegas, any Mayweather UFC bout (and particularly if it was against McGregor) would likely be a contender for the most lucrative MMA bout in history.
Comments
comments