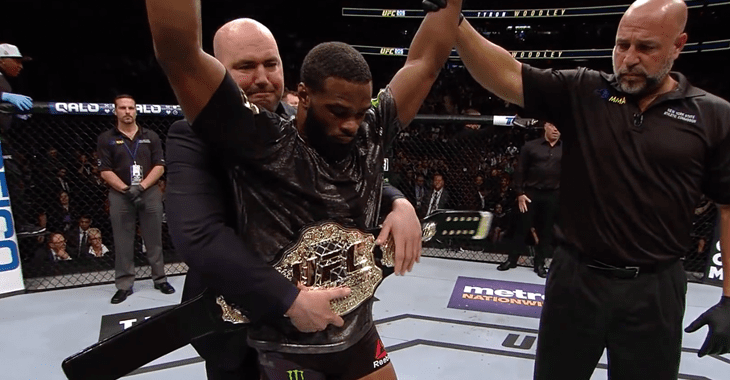 Tyron Woodley appears to have made peace with fighting Kamaru Usman instead of rival Colby Covington next up.
The welterweight champion has been campaigning to meet Covington in the cage for months, only for the UFC to make the decision to make Usman vs. Woodley the co-main event for UFC 235 on March 2. While Covington has spent the majority of today speaking to media and criticising the UFC's action, Woodley himself seems far calmer over the situation.
"I just recognise that at some point I'm going to fight all these guys," Woodley said, speaking with TMZ Sports. "Obviously the world would have like to have seen my fuck Colby up right real quick. I think he's trying to call shots, and he's not a champ so he can't do that. So I'm going to go out there and fight Kamaru Usman and then we'll find out what's after that.
"Most likely I'm going to fight Colby next up."
According to Woodley, Covington can still get an opportunity at the title, most likely at a date in June.
"I think they got a fight in Chicago in June. I'm a midwest guy, I train in Maluakee which is an hour and a half from Chicago, St. Louis isn't that far, I think I got strong roots there as well. So it'd be a good fight to headline that card."
Comments
comments