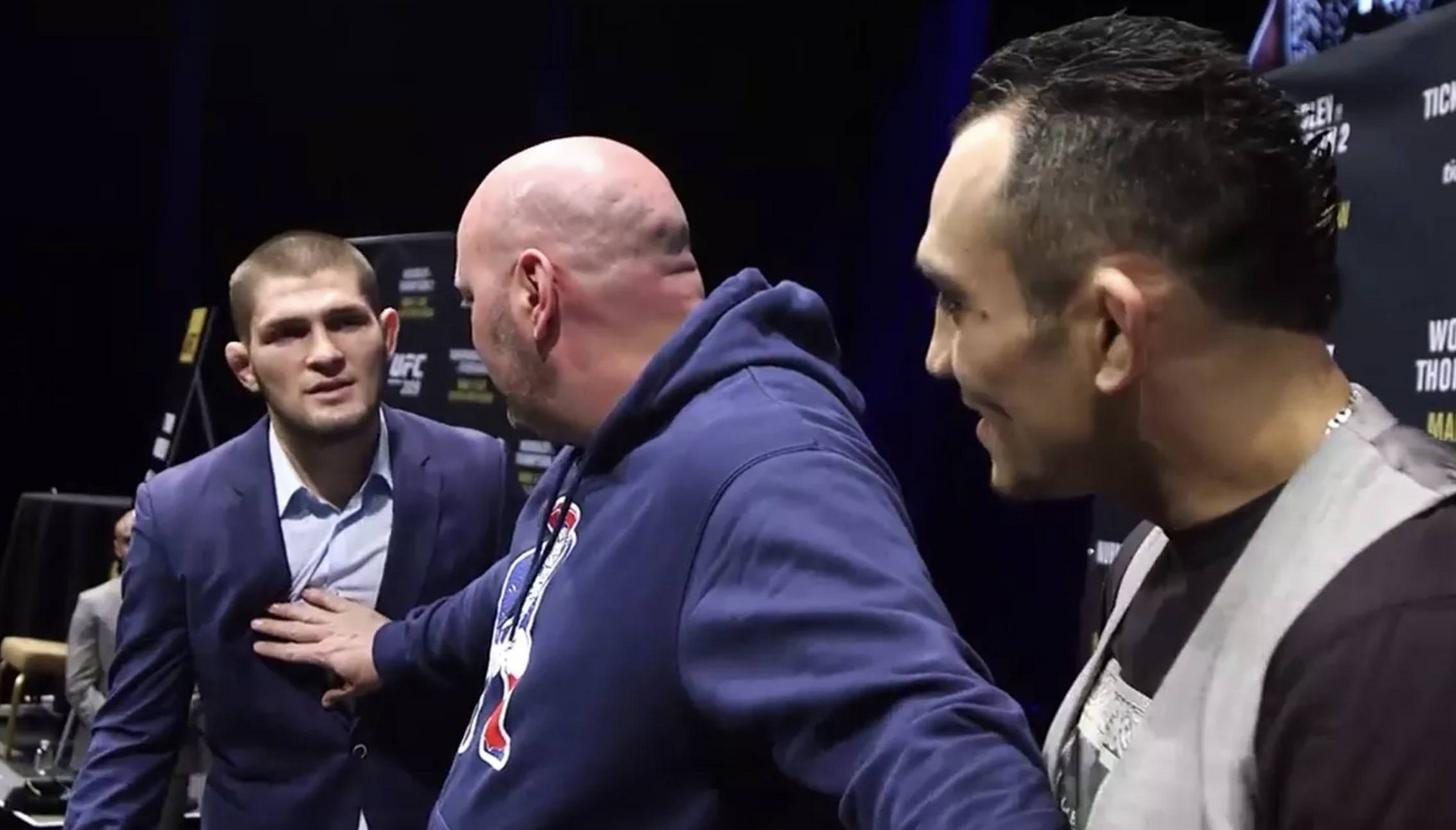 Tony Ferguson versus Khabib Nurmagomedov is one of the most anticipated fights over the last few years that has yet to happen. Booked for the fourth time recently, the contest has become something of a white whale for the lightweight division, with it falling through repeatedly.
That being said, now the stakes appear to be higher than ever, with UFC president Dana White recently stating it's for the 'undisputed belt', and that the winner would go on from UFC 223 as the new official lightweight champion. Now, fans can once again start to salivate over what a Ferguson vs. Nurmagomedov contest might look like.
Although ask Ferguson, and he's not anticipating the epic that most fans and pundits are.
"They've wanted me to fight Khabib since the beginning man and I understand that," Ferguson said, speaking on MMAFighting's The MMA Hour. "It's just a bunch of hype and I try not to look too much into it and I let my fights do the talking, like I always have and I always continue. I think the most interesting point is that I think most people have forgotten that I can translate punches inside that Octagon. I don't need a translator for that shit.
"I get hit for a certain reason. I want people to use their energy against me, but for bitch Khabib, that bitch is not going to touch me, not one time. I'm going to be dance circles around this kid. I will be hitting him with some nasty fucking uppercuts and that's going to make him think twice about shooting in on me. Then I'm going to hit him with some other things and cut him up."
Up until now, Nurmagomedov has looked nearly unstoppable in his mixed martial arts career. Most recently seen destroying Edson Barboza at UFC 219, the Russian appears to have the momentum going into his bout with Ferguson — although 'El CuCuy' continues to believe he'll dispel the aura of invincibility from Nurmagomedov.
"Have you ever seen Khabib cut in a fight? I don't think so," Ferguson said. "I'm Mexican and I got some sharp ass blades on my elbows. That bitch better thing twice about shoving that face in front of me, especially inside that cage. Gimme your fucking face dude and I'll hit you with my knee.
"I'm going to leave your bloody inside rounds one through three. Come after 'El Cucuy?' Fuck you dude. I'm going to mop it with that hat. I can't stand that shit. Fucking Khabib is going down and I'm going to derail that hype train and the time is now. It's T.T. time man, that's 'Tony Tiramisu Time' so let's go.
"I going to keep doing me and I'm going to keep punching people right in the fucking gut. It will be nice to finish Khabib by liver shots wouldn't it? I just want to see him wincing on the ground in pain where he belongs."
–
Comments
comments