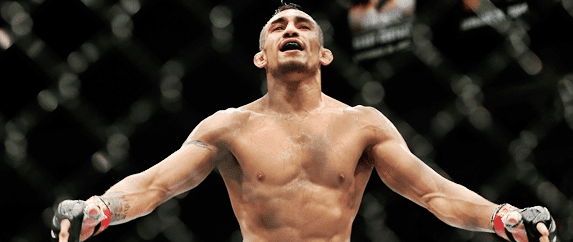 As of yet, Tony Ferguson's reasons for not fighting on April 12 at UFC 236 are unknown.
It's believed that, looking for a main event featuring an interim lightweight title, the UFC went to Ferguson first and offered him a bout with featherweight champion Max Holloway. For reasons known to himself, Ferguson rejected the fight, meaning the UFC moved on and ended up announcing Holloway vs. Dustin Poirier for the interim gold.
Today on his social media, however, Ferguson has given his first indication he could actually be interested in competing at the event, and his initial refusal had more to it than first thought.
"I could maintain weight between 170-180lbs in case @blessedmma or @dustinpoirier get hurt… hmm 2 x interim Champ?? 🕴️EC Crew WYT? -CSO" Ferguson posted.
Ferguson currently rides an 11 fight win streak at lightweight but is controversially yet to fight for undisputed gold, having previously fought for the interim strap only to be stripped after suffering a freak injury.
Comments
comments