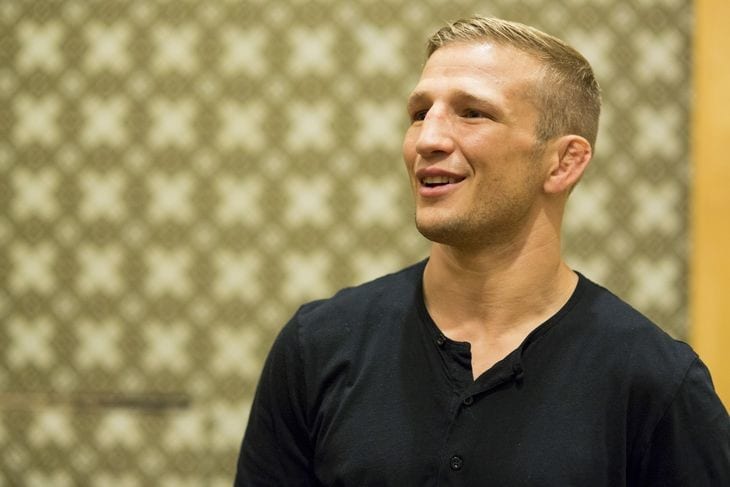 When Max Holloway was forced to withdraw from UFC 222, the UFC immediately looked to replace his main event against Frankie Edgar with another title fight, so as to keep the pay-per-view interesting to consumers.
While they ended up calling on UFC women's featherweight champion Cris Cyborg to step in on short notice, the promotion first approached UFC bantamweight champion T.J. Dillashaw, asking him to face rival and man he defeated for the belt, Cody Garbrandt.
But while their first bout was a thrilling affair, and one of the most anticipated contests in 2017, Dillashaw simply wasn't able to step in and face Garbrandt as quickly as his bosses wanted. Nor, he says, was he particularly interested in doing so.
"They just kinda wanted me to save the card, and unfortunately I wasn't able to," Dillashaw said, speaking on MMAFighting's The MMA Hour. "I'm dealing with some injuries that I was trying to keep quiet, but they kept hammering on me and hammering on me to take this fight. But I just wasn't healthy. It's not only to take a fight on four weeks' notice, but also being injured and I haven't been training and having a kid put a wrench in that whole thing too.
"It was a no-brainer, man. I mean, they kept trying to ask me to do it, but yeah, it was a no-brainer. I just knew it wasn't the time … They thought I was, like, maybe holding back for more money or whatever it is, but it just came down to not being healthy."
But while health was Dillashaw's deciding factor, the champion also didn't particularly agree with the UFC's idea of giving Garbrandt an immediate rematch. With Garbrandt losing the title to Dillashaw in November, Dillashaw pointed to his own inability to get an immediate rematch with former champion Dominick Cruz as proof Garbrandt hadn't done enough to face him again yet.
"This is a sport. Get back in line. It took me two years to get a title shot off a split-decision loss to Dominick Cruz that the UFC told me they thought I won," Dillashaw said. "It took me two years to get back to that case. Like, I worked my way back. I beat two No. 1 contenders to get there. It's a sport, you've got to push hard and you've got to get after it. You can't complain, you can't be a sore loser and all this shoulda-coulda-woulda stuff.
"So it's a little frustrating, but easy to put behind you. Let him continue to talk, be myself, and the more he talks, the dumber he looks, and more people will continue to realize it."
–
Comments
comments