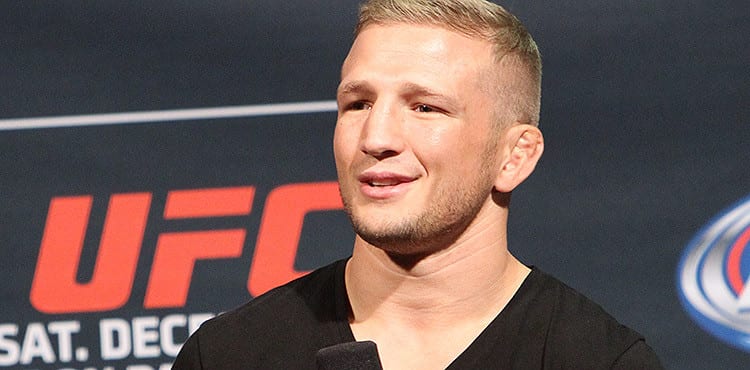 When TJ Dillashaw fell to Henry Cejudo in just 32 seconds on Saturday night, he was — to put it mildly — displeased.
The UFC bantamweight champion immediately stood up and confronted the referee about what he deemed an early stoppage, claiming he always had his wits about him and that he was in the midst of a grappling exchange that could have had him escape the oncoming Cejudo barrage.
Following that discussion with the referee, Dillashaw told commentator Jon Anik that it was an early stoppage and that Henry Cejudo "did not win that fight" — a message Dillashaw repeated in a furious post-fight press conference.
Today, speaking on the Ariel Helwani show, Dillashaw was a tad more courteous, acknowledging Cejudo had performed well and deserved credit, although the 135-pound champion was still adamant the referee had cost him a second world title.
And as for the post-fight anger?
"Let's be honest, I've never said I wasn't a sore loser," Dillashaw said. "I don't take losing very well. That's not a guess about me. I let my emotions get the best of me, that's why I'm so competitive. That's why I am who I am. That's why I put that many hours into the gym and train as hard as I do. Even in practice I get pissed when I lose. I've been known for that. My emotions get the best of me.
"So obviously [on Saturday], I was furious. It was a 30 second fight when I know I'm the better fighter. It's rough to swallow. If anyone's been in my situation, or just competing in general, you know what that's like. And I want to be here congratulating Cejudo, I want that to come across. I know he put in a bunch of hard work, I don't want to take away anything from his victory or his accolades or what he's done.
"But yeah man, I'm not going to swallow this one very well. It's a tough one for me. Especially when I have the UFC doctors telling me it's an early stoppage. You had Dana White talking about it was an early stoppage. It sucks man. There's no other way to really put it."
–
Comments
comments