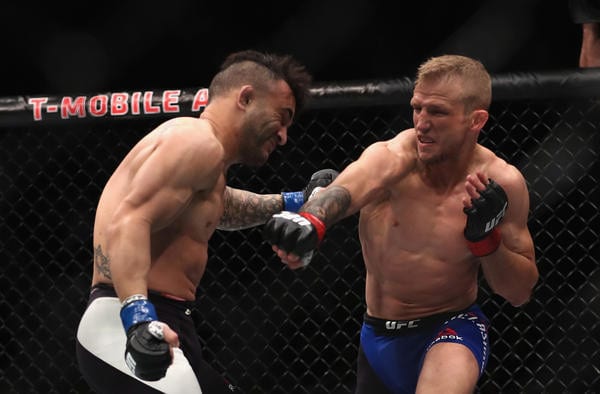 T.J. Dillashaw has heard Demetrious Johnson's issues with the UFC, and he's not exactly buying it.
After the flyweight champion came out and announced he would be refusing any offer of a Dillashaw bout — with negotiations reaching the point where UFC president Dana White threatened him with to ending the 125-pound division — Dillashaw remains thoroughly impressed.
Particularly after Johnson stated that a big issue he has with a Dillashaw fight is the possibility Dillashaw may not make the flyweight cut off.
"I understand where he's coming from with some of it but a lot of it was a slap in the face to me as well," Dillashaw said, speaking with ESPN Radio. "Trying to say that I don't really deserve a title shot which I think is complete bullcrap. I don't think there's anybody in his weight class right now to push him and I'm healthy, I'm in shape, I'm already in the process — because Dana told me that's who I'm fighting — of dropping the weight class. I'm waking up at 143 pounds in the morning so that's a very, very reachable goal.
"So for him to go and discredit my name and the things that I've accomplished just to not be worthy of a title shot kind of pissed me off a little bit, and it's kind of embarrassing to have him go and call himself the GOAT, to be the greatest of all time and turning down fights because he's scared to fight.
He can say whatever he wants to say about all his other issues he has and being bullied — which, I don't understand how the greatest of all time gets bullied — but it all comes down to him being scared of me beating him. He knows that I'm a bad matchup for him and that it's a fight that he does not want."
In reality, even if Dillashaw may have been prepared to grant Johnson's grievances in the past, he appears to have a feeling that a lot of Johnson's problems coming out just as a fight against Dillashaw was offered makes him skeptical.
"Tell the truth. You're talking about how you don't want to fight me for all these other reasons but really you don't want to fight me because you're scared," Dillashaw said. "Guess what man, you're the greatest of all time. Put it out there. This is gonna be a historical event for you to try to break your record, let's make this the real deal. Let's make it against an opponent that's gonna sell some pay-per-views, that's gonna be a big draw. It's just frustrating to see him back-pedalling from this and it's embarrassing for the sport for the greatest of all time to be avoiding the fight the way he is."
Comments
comments