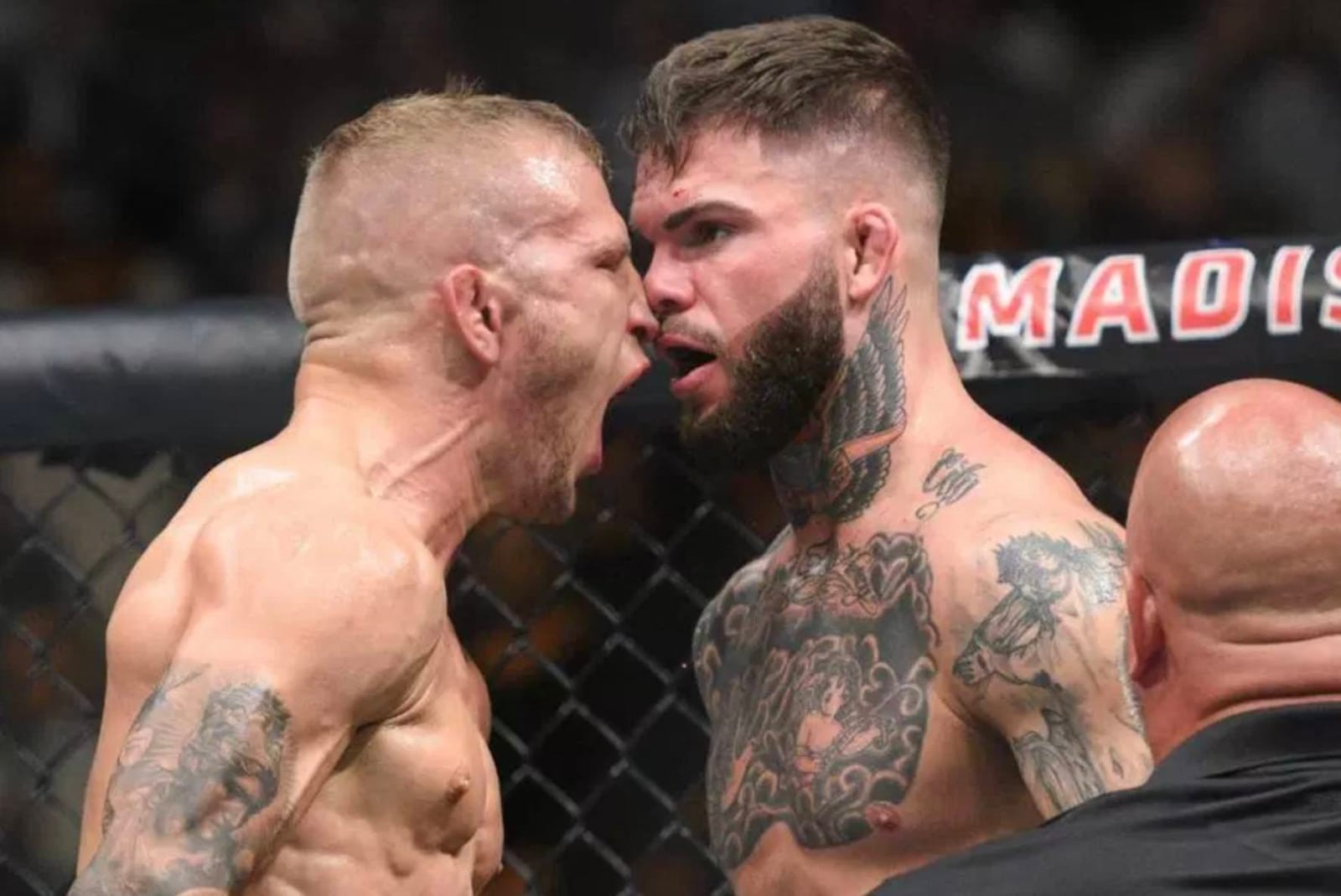 When news emerged today that Max Holloway will be unable to compete at UFC 222, the UFC apparently leapt into action in order to find a replacement.
Their first choice? A rematch between UFC bantamweight champion TJ Dillashaw and former champion Cody Garbrandt. But while Garbrandt readily accepted the contest, Dillashaw — who has been chasing a flyweight title fight with Demetrious Johnson, and is currently dropping weight in order to get it — was emphatic in his negative response.
Dillashaw's reasoning? First, he's just had a baby and wants to be a father, and second he's still not convinced he lost his 135-pound title to Dominick Cruz in the first place, and it still took him two years to get another shot at the gold. That's not something he's prepared to risk again on short notice.
Spoke to @TJDillashaw. UFC asked him to accept a rematch against Cody Garbrandt to headline 222. Here's what he had to say about it. pic.twitter.com/esl4dBRYXe

— Brett Okamoto (@bokamotoESPN) February 3, 2018
"It took me two years to get a title shot back, now they want me to defend it on four weeks notice?" Dillashaw said, speaking with ESPN's Brett Okamoto. "I told the UFC I'm not doing it. I'm shooting for the DJ fight in July."
Perhaps unsurprisingly, Garbrandt was left irked by his inability to get right back in there to try and reclaim his old title, mocking Dillashaw's citing of fatherhood as a reason not to fight, and pointing to his own impending becoming a parent. The two then became embroiled in a back and forth.
My wife will be expecting anytime during that fight week, I just started to be able to use my right hand, how many excuses do you have @TJDillashaw ?? https://t.co/nxfpmXDJyU

— Cody Garbrandt (@Cody_Nolove) February 3, 2018
. @Cody_Nolove Hey "smart" guy, through all your cussing and trash talk, wait till Kai is born and you get to hold him in your arms. Then see if you want to train for a fight on 4 weeks notice when your baby is a month old. #FAMILYFirst #HumbleYourself #URstillanidiot #KTFO 🤫 pic.twitter.com/knfHkeCgI3

— TJ Dillashaw (@TJDillashaw) February 3, 2018
Exactly more reason to fight! Lol you think you you're going to get paid for the Dj fight? Stop listening to Duane's bitch ass, he is making you soft! https://t.co/zsJPbDsZxT

— Cody Garbrandt (@Cody_Nolove) February 3, 2018
It marks the latest chapter in an increasingly long feud. Throughout last year, Garbrandt and Dillashaw were involved in one of the main stories, coaching The Ultimate Fighter and regularly getting into altercations.
The basis of the disagreement essentially comes down to Garbrandt feeling Dillashaw had shown disloyalty to his team Alpha Male, and Dillashaw believed he was merely making the correct move for his own career. The two eventually met at UFC 217, where Dillashaw knocked Garbrandt out in the second round to win the championship.
Clearly, the rivalry has yet to dissipate.
Comments
comments