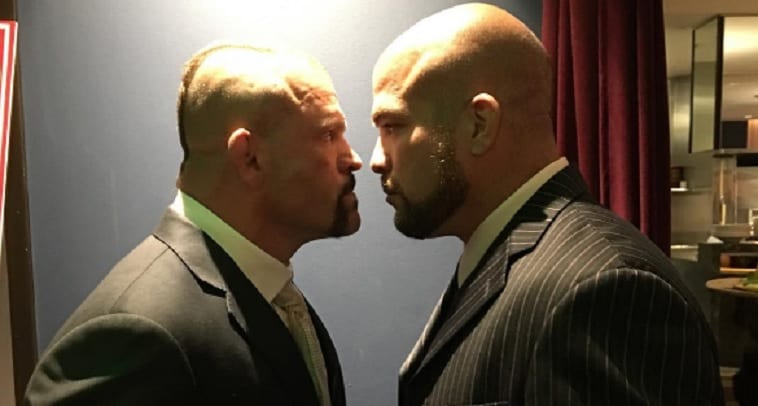 A rematch between Chuck Liddell and Tito Ortiz has been confirmed to take place under the banner of Golden Boy Promotions later this year, as reported by ESPN.
It will the third time that Liddell (48) and Ortiz (43) will have met in mixed martial arts competition. Their two previous bouts took place in the UFC and were both won by a Liddell TKO.
Liddell announced his retirement from mixed martial arts after a knockout loss to Rich Franklin — his third loss in a row —  in June 2010 but has been linked with a return to active competition for more than a year. Ortiz, meanwhile, has won three of his last four bouts in Bellator since leaving the UFC in 2012 and has made his own retirement a temporary one to renew his rivalry with 'The Iceman'.
Ortiz defeated Chael Sonnen by submission in his most recent bout in January of last year.
"It feels great to sign a deal, to be honest with you, it's as exciting as I knew it would be," Liddell said to ESPN. "Golden Boy offers something different. We're partners in this. And I never get sick of punching Tito."
"I'm only interested in fighting Chuck at this time," said Ortiz. "If anything, the rivalry is worse than it ever was. This isn't made for TV. This is as real as it gets."
"Just like boxing fans remember the historic rivalry between Erik Morales and Marco Antonio Barrera, do so MMA fans remember the rivalry between Chuck Liddell and Tito Ortiz," said Golden Boy president Eric Gomez in reaction to the bout agreement. "But Liddell-Ortiz never got their third fight. This time fans will get to see the third fight. They'll the culmination of a heated trilogy that was pivotal for the sport."
Comments
comments