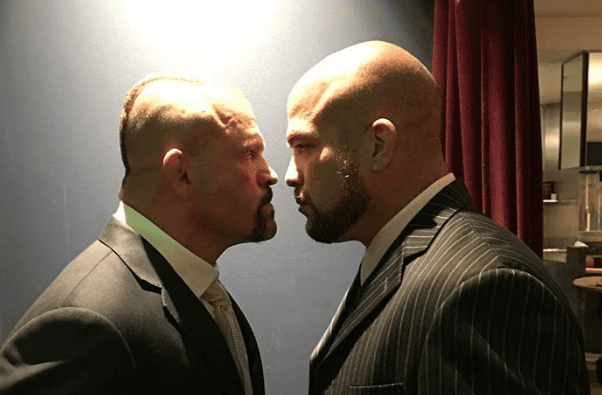 Before there was Nate and Conor, Chael/Anderson and DC/Jones, the biggest rivalry in the sport of mixed martial arts was Tito Ortiz and Chuck Liddell.
The two captured the attention of the mainstream audiences with their intense personalities and repeated verbal sparring en route to some of the then-biggest events in UFC history. Perhaps because of that history, eyebrows were raised when over ten years after the last time they fought, a picture emerged that hinted at a possible third go around.
Liddell posted a picture of the two in a staredown with a simple question attached: 'why not?'. But in the immediate aftermath, things got a bit odd. Instead of playing along with the picture, Ortiz shot back that he wouldn't accept a fight because he didn't need the money — a comment which riled Liddell, who accused Ortiz of deliberately playing ignorant to a post he knew was coming.
In the end, Ortiz apologised, and acknowledged he'd been wrong with his comments. This week, Ortiz went on Submission Radio to explain the situation further.
"I was at a poker event and he was at the same event also playing and the media wanted to take a face off picture and I said cool," Ortiz said. "Then we started walking towards the back [and he said], 'let's do another face off picture and let me post it.' I was like, alright, cool. You know it's not gonna happen but I guess he just wanted to get some play out of it, which he did.
"That night I said 'why not.' I said it on emotions. I probably shouldn't have did that but at that time I had a couple drinks in me and The Bad Boy comes out every once in awhile … I did it all on emotions. I thought it was funny at the time and I apologized after."
But, if Liddell had hoped the public attention and traction could coax Ortiz out of retirement for one last fight, he's mistaken. According to Ortiz, he's done with the sport, and happy with his exit.
"I left on my own terms. I left when I wanted to leave," he said. "I didn't leave because I got knocked out four times in a row. I left when I needed to leave. I took the best I could possibly do and I walked away. I left on a storybook ending. No reason to come back and mess anything up."
Comments
comments