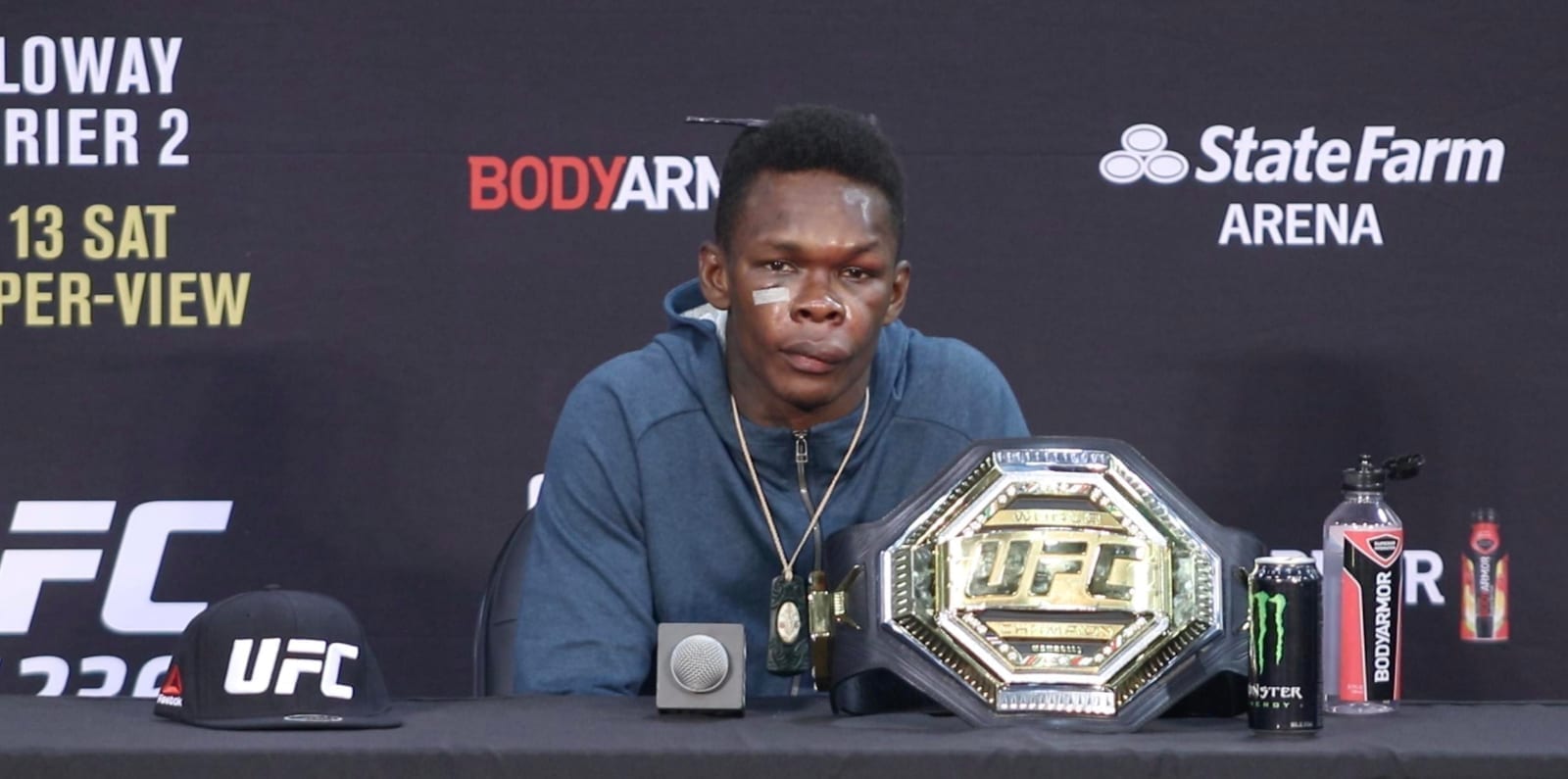 Newly crowned undisputed UFC middleweight champion Israel Adesanya says that it is only a matter of time before he and Jon Jones step into the octagon with each other but he is keen to not hand the light heavyweight champion a fight on Jones' terms.
Adesanya has been incredibly impressive since making his UFC debut less than two years ago, defeating seven consecutive opponents. The last three of those — Anderson Silva, Kelvin Gastelum and Robert Whittaker — proved to most that Adesanya is currently in a league of one at 185-pounds. As is always the case when a dominant champion emerges in a weight division talk has inevitably led to the prospect of a 'superfight' between Adesanya and Jones.
However, Adesanya says he knows what Jones is up to.
"He's trying do what Mayweather did to 'Canelo'," Adesanya said to MMA Fighting, referring to the sole loss on the Mexican boxer's career ledger. "Mayweather fought 'Canelo' while he was still coming up [and] caught him early, so he's trying that with me. Because he knows every f*cking time, I'm getting better and better and better, and he's not. His time will come
"I just got my middleweight title in April, and I defended it for the first time in October. I want to defend my belt against all the middleweights that are the biggest threats supposedly before I jump up in weight. If Jon wants to fight me now, he's got to come down to middleweight.
"I've got a plan. I never, ever deviate from my plans. He's not going to make me move from what I have in my head first. I've got all these killers at middleweight to whoop first before I get to him, and then I'll whoop Jon Jones' ass."
View this post on Instagram
As for the identity of those middleweight killers, injury appears to have ruled out presumptive challenger Paulo Costa so it is thought that Yoel Romero could be on the verge of a title fight despite losing three of his last four fights. Jared Cannonier has also won three straight at 185-pounds, while divisional newcomer Darren Till cannot be ruled out after landing at 5th spot in the official rankings following his decision win against Kelvin Gastelum at UFC 244 last weekend.
But according to Adesanya, as soon as those challenges are vanquished he will be waiting for Jones — so long as the 205-pound champion is eligible to compete.
"It all depends on what his career is like, if he sticks around," Adesanya said of his potential opponent. "If he does something stupid and gets sent to jail or gets popped for some more picograms, all that sh*t. It's up to him if he sticks around. I gave him a date — 2021 — by then I will have cleaned out the middleweight division. I just want to clean it out."
Comments
comments