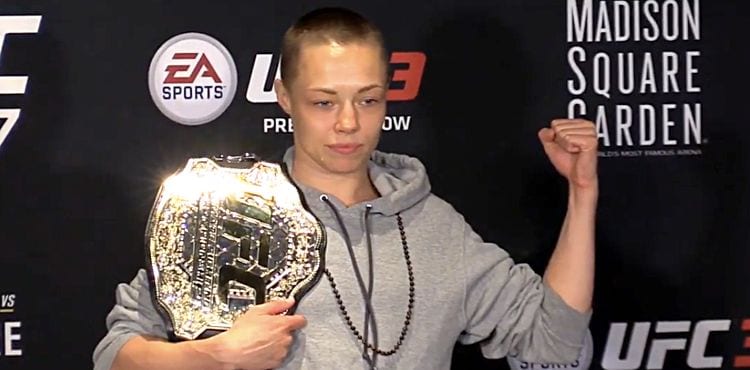 UFC strawweight champion Rose Namajunas is taking the unusual step of defending her championship in the home country of the woman she faces this weekend at UFC 237, Jessica Andrade. 
In situations such as this, more often than not it is the title challenger who travels to the champion's home country and attempts to take the title in front of galvanised support. Not this time. Namajunas will undertake her second title defence against Andrade inside the Jeunesse Arena in Rio de Janeiro at the top of a card filled with well-known Brazilian fighters like Jose Aldo and Anderson Silva — and as Namajunas admitted to Luke Thomas on The MMA Hour via MMA Fighting, the prospect of doing so is 'scary'.
"This time is different from any other time, obviously. This time it's pretty scary, I must say," Namajunas said. "It's kind of, I feel like I'm in uncharted territory even though I have a lot of experience. There's a lot of things that I do know but there's definitely a lot of unknowns going into this one.
"I've spent not just the last year fighting the same girl, Joanna [Jedrzejczyk], but then years prior to that, even after having other opponents, I still was thinking about her. So this is the first time where I'm not thinking about her. I'm thinking about somebody else, thinking about Andrade, and at the end of the day it's always just a fight against myself, so just remembering that has been a challenge, but it's something that I'm going to overcome."
Namajunas, of course, dethroned former strawweight queen Jedrzejczyk at UFC 217 in New York City in November 2017. She repeated the achievement the following April and now, more than a year later, faces the spirited challenge of Andrade, winner of six of her last seven.
"I think she's pretty unique, I'd say. I don't think I've ever fought anybody quite like her," Namajunas said of her opponent. "I think that there's parts of her that kinda remind me of Pat Barry in a way, just the way that when she fought at '35, she was fighting girls that were way bigger, but she kinda just like always surprised people with just how explosive [she was], and that regardless of her size, she was able to be a dangerous opponent no matter what. So in that sense, she kinda reminds me of Pat in a way.
"I'm up against a very experienced, well-rounded, formidable opponent who's got a lot of great physical qualities," added Namajunas. "She also has a lot of experience, so on the mental side, she's a pretty complete fighter. As far as physically is concerned, I feel like my body type I think is better for MMA, but at the same time it's just going to come down to just me being myself and that's really all there is to it."
Comments
comments