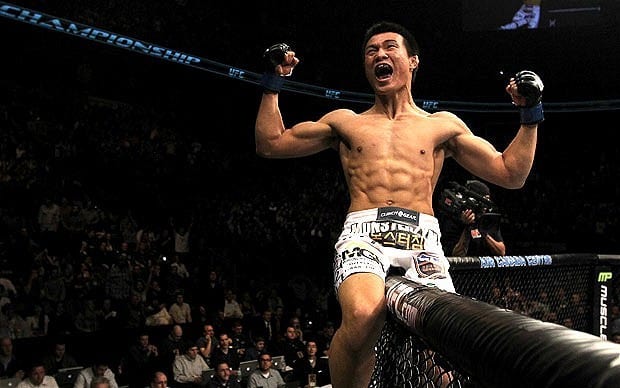 It may surprise some to learn the the Korean Zombie, Chan Sung Jung, has competed just four times in the octagon since 2013 due to a mixture of injury and his compliance with the mandated military service that all South Korean men must undertake.
Nonetheless, and no doubt spurred on by his first round finish of Frankie Edgar in Busan a couple of weeks back, he says that he should be the rightful recipient of a title shot at in the 145 pound division, and not Max Holloway who was beaten by the Australian on December 14.
"I'm eager to know when he will be back," Jung said to MMA Fighting of Volkanovski, who is currently in the midst of rehabbing a hand injury he suffered in his title-winning tilt. "I think I'd be able to beat Volkanovski easier than Holloway could."
Despite not suffering any damage of note in his fight with Edgar, Jung announced after the fight that he is seeking surgery on an eye complaint which could keep him sidelined for the first quarter of 2020.
"During my stay in the States, my eye condition became worse, and in order to treat it as soon as possible, I had no choice but to let the UFC know," Jung said. "Fortunately, I was told that there wasn't any harm to my eye, it was just the double vision, so I had to choose whether to fight or not.
"If the doctors told me it was going to get worse if I get hit in the eye, I would've gave it another thought, but they told me it was okay to be hit, and I was glad that I was able to stay in this sport."
He also says that it wasn't necessarily the plan to call for a title bout in the aftermath of the Edgar bout but the sheer brevity of the fight — 3:18 — forced his hand, particularly after Brian Ortega was afforded his own shot at the championship after finishing Edgar in March 2018.
"I had this thought in the back of my head where, 'If I were to knock Frankie out, I'd have the right to call Volkanovski out.' Then it happened way too soon during the first round, and without hesitation, I called him out," he said.
However, due to Holloway's recent dominance of the featherweight division (until this month, that is) it is likely that the Hawaiian will be offered a rematch with Volkanovski, a move which would force Jung to look elsewhere.
Brian Ortega, the man whom he was originally supposed to fight in Busan, seems to make sense.
"I do kind of think that I may have to fight once more [before the title shot]," Jung said. "If I have to face another opponent, I'll go for it."
Comments
comments