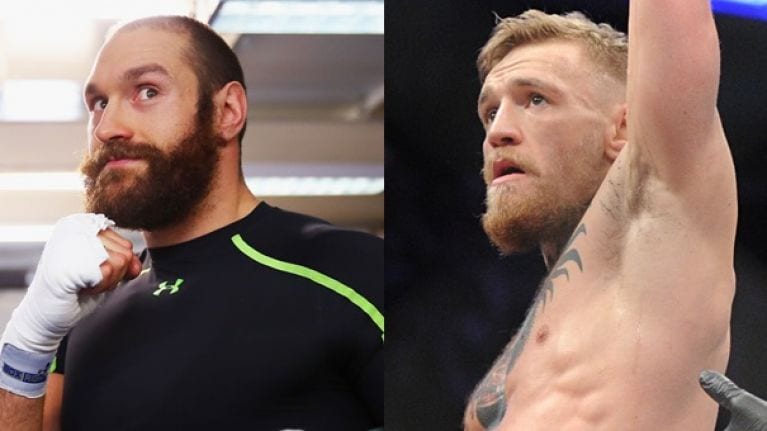 Conor McGregor has some business to conduct in Las Vegas this weekend but once that is taken care of, he says he will be a keen viewer for next month's world heavyweight title rematch between unbeaten fighters Deontay Wilder and Tyson Fury — and McGregor is picking Fury to get the job done. 
Wilder and Fury will collide on February 22, around 14 months after their first meeting which featured a Lazarus-like comeback from Fury late in the fight after he was felled by a thunderous left hand from the 'Bronze Bomber', and Fury has promised to deliver the victory that he feels was taken from him by the judges in their first encounter, and one man who thinks he can do just that is Conor McGregor.
Fury, who says he will be cageside to watch McGregor vs. Cerrone this weekend, had previously stated that McGregor had even offered to train him ahead of a prospective dabble for the boxer into mixed martial arts.
"He's got a good tough fight, Deontay is a powerful guy," McGregor said to BT Sports of Fury. "But I think if he keeps his mind strong and keeps his playfulness in there and his sharpness and his elusiveness, I think he can do the job."
As for those rumours about agreeing to train Fury, McGregor says that this was never discussed between the two fighters.
"I know Tyson's been talking about it a lot. Me and him spoke and I said that I would train him. I'd never spoken to Tyson in my life, but it's not a bad little story so I let it roll. Tyson's a good man, I like Tyson.
"He's a great boxer, a phenomenal boxer, probably the best natural boxer in the heavyweight division at this time. So who knows.
"I don't think he's just saying he would do it, then not do it like a lot of them do, I say Tyson probably would do it in time. Maybe we could set something up, I'm not going to be holding mitts for him or anything, but if he wanted to be trained by me or even educated by me, I'd need to see him in certain positions or situations. '
"I need to see him spar a heavyweight. I need to see him deal with the leg kicks. I'd need to see him in the bottom position and then I'd assess that and off he'd go. 'That would be something I could do for Tyson. I found it funny he said we'd hugged and all this, I've never spoken to Tyson in my life. He's a mad man, Tyson. It'll be cool that he's going to be there [at UFC 246]."
As for Fury's prediction this weekend?
"Yes, Conor McGregor is gonna win," Fury told reporters recently. "I say by knockout. And I'm gonna be there to see it happen [at] ringside, cageside rather."

Comments
comments