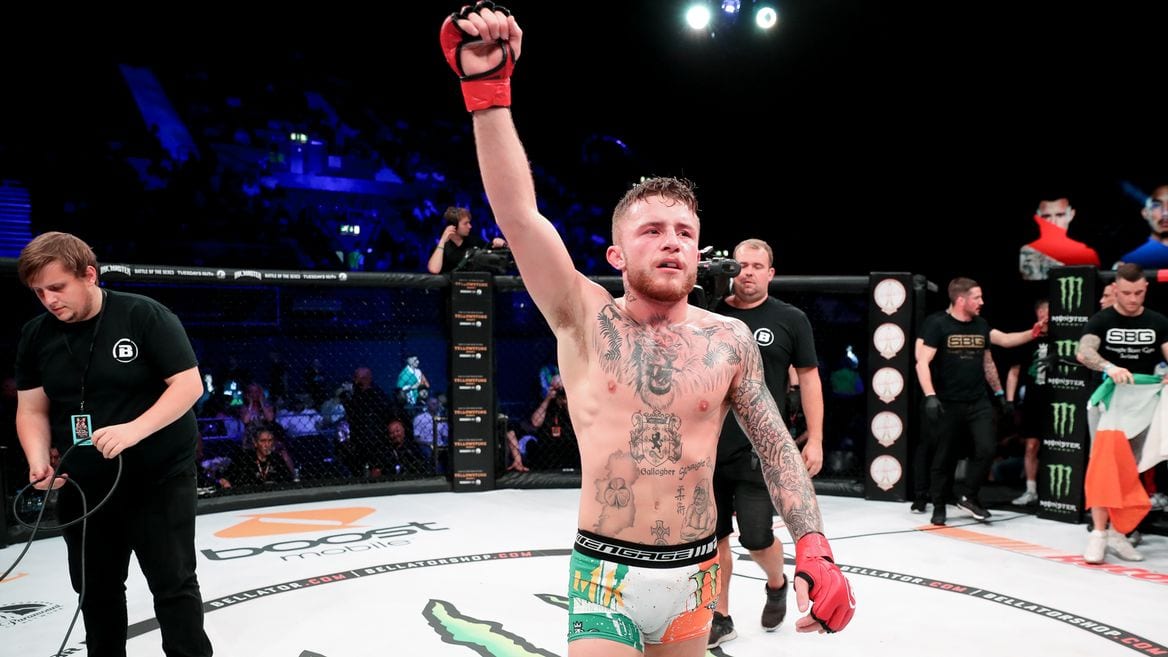 After several false starts and cancellations, James Gallagher and Cal Ellenor will finally step into the cage with one another in the main event of Bellator's latest event in Milan and the Irishman says that the evidence he brings forth in the cage will make it hard for the organisation to deny him a world title bout.
Gallagher and Ellenor have been scheduled to face each other on several occasions in the past but each previous meeting fell apart for a variety of injury reasons, as well as due to the impact of the Covid-19 pandemic on global sport. However, with the fight finally set to take place on Saturday, Gallagher says that the fight couldn't have come at a more perfect time for him and that the break in activity has allowed the 23-year-old the opportunity to add further tricks to his game.
"I feel great," Gallagher told Sky Sports. "I'm taking it in my stride, lapping it all up. I just moved [house] over lockdown. It's been great, out in middle of nowhere, there's no one around, it's just been great just to chill and train. I've just been relaxing and living life.
"I've got a full gym and a sauna, everything I need. Bags, treadmills, weights, you name it. I don't need much else. The only thing I need now is a world title."
A win against the dangerous Englishman Ellenor would certainly add weight to his desire for an opportunity at Bellator gold but Gallagher isn't allowing himself to become distracted and look past his opponent this weekend.
"It's just a job to be done. Nothing personal. It's cool, calm and collected. I still think he's a clown, but that doesn't matter," he said.
"But I'm going to show up in shape. I'm going to be there for three rounds, right in his face, pushing the pace non-stop. That's what I'm going to do. He's never going to feel pace like this.
"I know I can go solid with three 'fives', without taking one breather. He's fought journeyman, and to be so blatantly disrespectful when you have done that, to someone like myself who has fought multiple black belts with years experience.
"There's a lot of things [to respect]. He's very good. He's had a lot of fights. He's very good, I'm not underestimating him."
View this post on Instagram
Gallagher says that the past few months have afforded him an opportunity to concentrate on self-improvement and, after putting in the hours, he says that this will show in the cage on Saturday night.
"I've never been fitter. My weight is the best it's ever been. I just feel like this is my time to shine," he said.
"Saturday night, I'm just looking forward to sticking it on him. I'm fighting ten years now. I'm only 23. I've been fighting since I was 13. I'm a veteran in this game – a young veteran. I'm getting older, getting better, getting fitter, getting stronger. It's my time now."
Gallagher, who turns 24 later this month, will no doubt be in title contention with a victory this weekend for the championship recently won by Juan Archuleta — but Gallagher says he needs one further fight against a sizeable name to make it certain.
Step forward, Sergio Pettis.
"I'll grab the title. But right at this moment, I'm not deserving of the title. I haven't beaten anyone yet that puts me as deserving of the title," he said. "There's only one fight that makes sense after this, and that's me versus [Sergio] Pettis."
Comments
comments