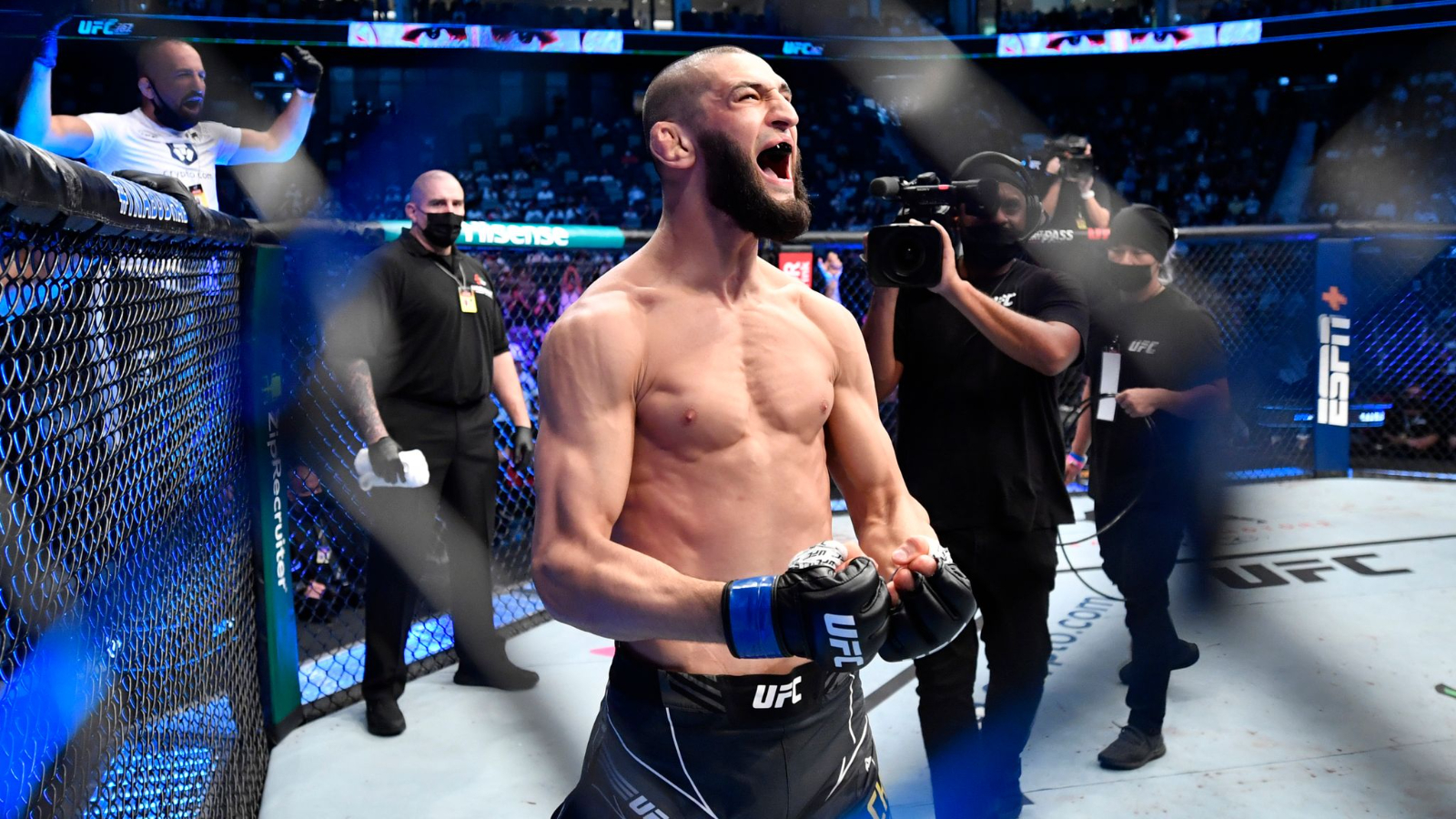 Khamzat Chimaev is in an unusual position ahead of his UFC 279 main event showdown with Nate Diaz on September 10. 
The surging welterweight contender came through his sternest test to date in April when he dispatched former title challenger Gilbert Burns by decision, but not before enduring a tricky second round in which he was dropped to the canvas by a clubbing blow from the Brazilian in an encounter which humanised the previously impenetrable defences of the Chechen-born Swede.
But while his came through that test with his unbeaten record intact, Chimaev finds himself back in the role of the matador against the battle-hardened Diaz. Vegas has issued lopsided odds for the fight, suggesting that Chimaev need only show up to the cage inside the cavernous T-Mobile Arena next month to win — but as he told Oscar Willis of TheMacLife exclusively from his training base in Stockholm, Diaz is a fighter he respects, even if he sees little threat from the Californian veteran in his final fight for the UFC.
"Yeah of course [I'm surprised Diaz took the fight], because like, himself he tells the interviews [this is a] bad match up for him, you know?" Chimaev said. "Like I can smash that guy easy. The guy's getting older, he's not that guy who beat McGregor. He's not that young guy. This is his last fight, he's gonna lose his fight and go some boxing shit.
"I kill him, you know, and kick him out. Let him go."
But that isn't to say he expects an easy outing. Chimaev was notable for barely taking a punch in his first four trips to the Octagon, which he suggests is an impossibly high standard to maintain.
"I think all the fights can make you surprised," he explained. "Like my last fight, I made mistakes. I was like, 'Now I drop him, now I'm gonna knock him out'. I run after him like three rounds, it didn't happen. Sometimes you have to be ready, like five rounds, for ten rounds. It doesn't matter. I was ready, you know? I get dropped, it's why I get up I come up and finish the guy. We were watching each other, watching running around."
"Yeah of course it's nice to fight with that guy," he added of one of the UFC's most colourful characters. "When I was kid, young boy, I looked up to that guy, other guys. It's nice to see them in the cage as well with me. Like somebody who you looked up [to]. He's a warrior. Nobody can take from him. He comes to fight until the last second. Like he said always, kill or to be killed. He's doing all the time. Respect for him to take the fight, it's a bad fight for him. You have to give him respect."
If, as expected, Chimaev has his hand raised in a few weeks' time, talk will quickly turn to what is next. Speculation suggests that some fighters have been reticent in agreeing to take on the dangerous fighters in his early days in the company, given that his ranking didn't quite match up to the challenges he poses in the cage. But now ranked third in the 170-pound fold, that excuse has melted away and some of the division's big names have tested the waters.
One of those is Jorge Masvidal.
"No I didn't see that actually, but I don't think so he wants to fight me," Chimaev said of 'Gamebred'. "But now everyone understands when I beat that guy, money fight is me. Only me, you know? Everyone was running from me, because I'm bad fight for everyone, now they know its money. Money fight is me. Conor's away, he's on some movie shit. Khabib is out. Israel don't make good fights. Nobody wanna see that guy fight, now only me make real fights.
"I think I'm already the biggest star in the UFC," he added. "Nobody wanna see those guys. What Israel did, all respect for that guy, he defend his title, everything, he doing good, a good job. I am here for fight like UFC needs. Everybody wanna see you fighting, not like playing, making points like playing tennis, you know?"
If all goes according to plan for Chimaev, the morning of September 11 should come with a rake of social messages petitioning for Chimaev to take on the winner of this weekend's Usman-Edwards title fight. For now though, Chimaev is content to see where the chips fall in the coming days and weeks.
"We will see," he said. "If Kamaru wins the fight, I think he gonna take long time to come back and maybe gonna retire. I think the guy's scared from me. He always talk about maybe I finish, maybe I finish. I hope he gonna win the fight and I fight with him. But if he stays long time away, Jorge starts to talk too much, I might have to smash his face as well.
And while Chimaev said he is leaning towards an Usman victory this weekend, he says that it is a compelling matchup between two of the division's best.
"Yeah, from that time to when they meet the last time, they're both completely different," he said. "Kamaru's getting much better boxing and Leon's getting better wrestling. It's interesting fight for me as well to watch that fight.
"I actually told my manager, let me fight at 84[kg] as well, but he said let's wait and focus on 170, take the belt then go up. We will see. I'm ready for everyone. When I said I can fight with Brock Lesnar, it's real, I can fight with him. If they give me $1,000,000, no problem. Let's fight who they want. Kamaru Usman, doesn't matter."
But first thing's first. Respect or not, Chimaev has no problems in sending Nate Diaz packing from the UFC with a loss, and a dominant one at that.
"I'm like killer, they pay for me, I kill somebody. I will do my job."
Comments
comments