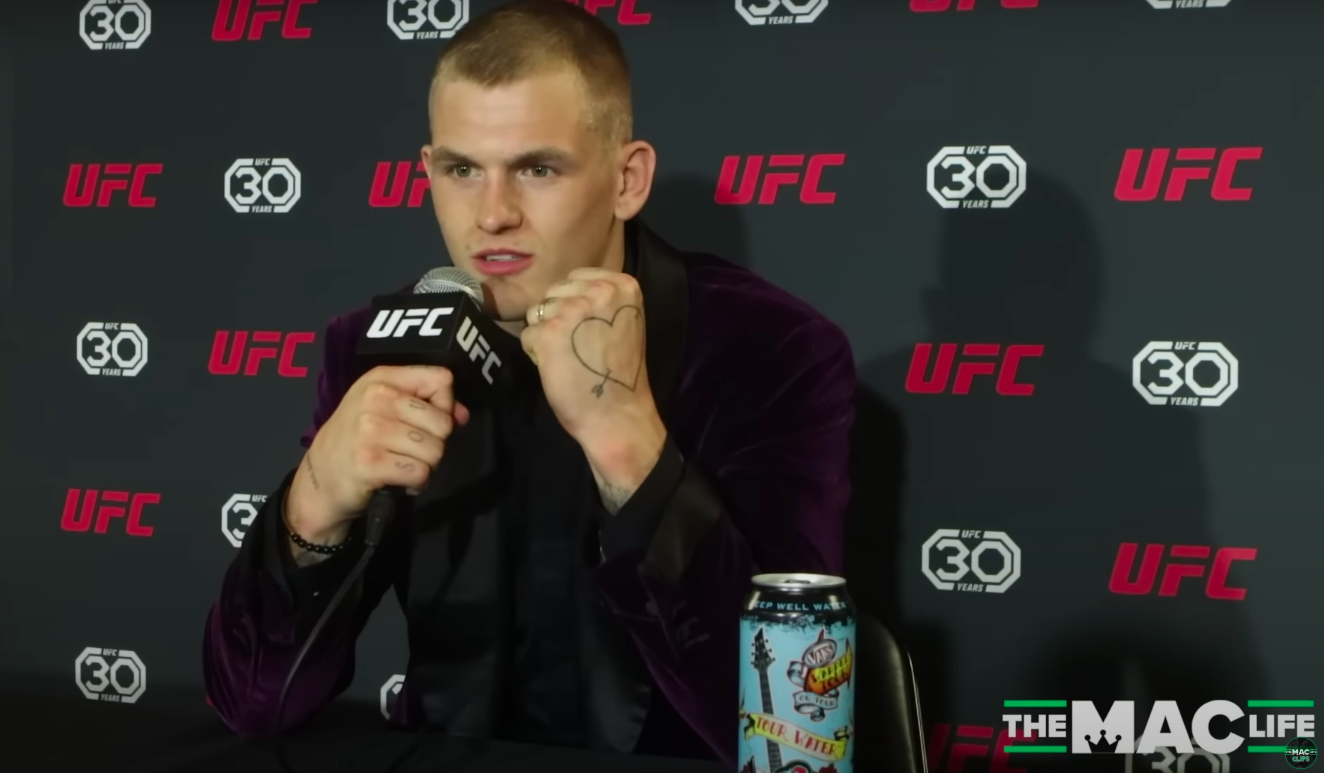 Despite being one of the hotbeds for mixed martial arts in Europe, it is approaching eight years since the UFC has held a fight card in Ireland — but Ian Machado Garry plans to change that sooner rather than later. 
Garry, who is now listed 13th in the promotion's official welterweight rankings following his first-round blitz of Daniel Rodriguez earlier this month, is now an impressive 5-0 in the promotion (12-0 overall). It was a performance which emphasised the former Cage Warriors champion's impressive rise through the ranks at 170-pounds, as he became the first fight to defeat the experienced Rodriguez by strikes in his career — and now he says that the time is nearing for him to join the small list of fighters who've headlined a show in the Irish capital.
"If I'm getting Irish support in Ireland, in Dublin, there's never going to be anywhere else where it's going to be louder than when I'm at home and I feel like the Irish deserve the support," he said during a recent appearance on The MMA Hour, via MMA Fighting.
"The Irish deserve the crowd, they deserve the show of the UFC coming back to Ireland. We've done so much for the sport. The sport is booming right now at the moment. I'm absolutely smashing it.
"You've obviously got Conor on the comeback, whenever he's back against Chandler. And then you look at it, we've got three Cage Warriors Irish Champions. We've got Caolan Loughran, we've got Paul Hughes, we've got Rhys McKee. Those boys are all on the verge of signing for the UFC now, so it is inevitable that the UFC are going to come back. They're going to come back to Ireland and I'm the guy who is going to make it happen and I'm excited for it.
"I believe that after this fight, when I beat Neil Magny, when I smoke someone else in that top 15, that I'm going to be able to pull them back to Europe to get that Irish base breathing again. To get everybody hype, get that fire burning, and then watch all these guys follow behind me to the UFC and just set the stage alight again."
The Dubliner has forecast a future bout with another veteran, Neil Magny, to be the next step in what he says is a multi-point plan to defeat a range of ranked fighters before what he sees as an inevitable title shot down the line. And who better for a hometown appointment than another of the division's most lauded strikers, Stephen 'Wonderboy' Thompson — the same foe the UFC tested Darren Till against in his own hometown bout several years ago.
"I told them that I want them back and [UFC President] Dana [White] sat and said, 'I know, we'll work on it. We'll try,'" Garry said of plans for a Dublin event.
"That's all he can say. He's kind of a bit of a yes man, he has to say yes at that point in time, but I believe that he's absolutely going to make it happen. I believe when you see the star power that I possess, in Charlotte, when you see the performance that I showed up with and you think about that was the best opponent I've ever fought in many people's minds. That was against the toughest guy I've ever fought in many people's minds.
"Why wouldn't we go and do that in Ireland and why wouldn't we go and do it against someone who's going to bring in the fans? … Could you imagine me vs. Stephen 'Wonderboy' Thompson as the main event in Dublin, Ireland, and then stack the card with Irish and European talent from top to bottom. You wouldn't have to sell any other fighters, you just have me and Wonderboy and it would sell it out."
Comments
comments