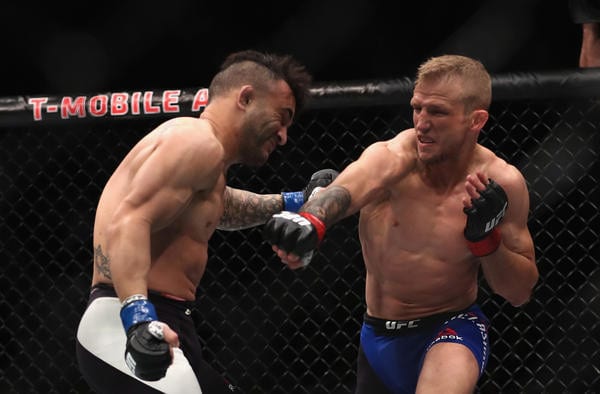 T.J. Dillashaw knows a thing or two about the two men in this weekend's UFC 249 co-main event.
The former UFC bantamweight champion, who is currently suspended from active competition after testing positive for EPO in January of last year, has lost to both men in a UFC cage — and says that it is Cruz who will have a significant advantage upon the first bell late on Saturday night.
"I actually think Cruz wins the fight, I think he wins a decision," Dillashaw said of the contest to ESPN. "I don't think Cejudo is all he cracks himself up to be. He's very good, don't get me wrong. He's a great athlete, he's done some amazing things in the combat world."
Dillashaw lost his UFC bantamweight title to Cruz in January 2016 but went on to reclaim the championship with a KO win against Cody Garbrandt in New York in late 2017. He successfully defended the belt in another match with Garbrandt before a 32-second defeat to Cejudo, after which he failed the drug test for which he remains suspended.
However despite being finished so quickly by Cejudo, Dillashaw says that the champion will have a hard time dealing with Cruz's famous movement and footwork.
"I don't think he's to the level of what Cruz can show him. It's gonna be difficult for Cejudo to deal with Cruz's awkward movement. I think MMA wrestling is a completely different sport [to collegiate wrestling]. I think the distance control that Cruz has is going to be one of Cejudo's biggest challenges. He's not gonna be able to get a hold of Cruz. If he does, he isn't gonna be able to hold him down. It's not like Cejudo is a jiu-jitsu expert where he's gonna take advantage of Cruz giving him his back.
"Because Cruz gives up his back constantly when he gets taken down, but he uses it to get back to his feet. I think Cruz's scrambling ability and his MMA wrestling will be an advantage for him, too."
We will find out if Dillashaw's predication comes to pass when Cejudo and Cruz meet at the VyStar Memorial Arena in Jacksonville, Florida this weekend.
****
Dominck Cruz makes his comeback after another injury absence at UFC 249, where he will attempt to become the first three-time bantamweight champion in UFC history against Henry Cejudo. You can check out the latest fight odds over at our official betting partner Parimatch. 
Comments
comments