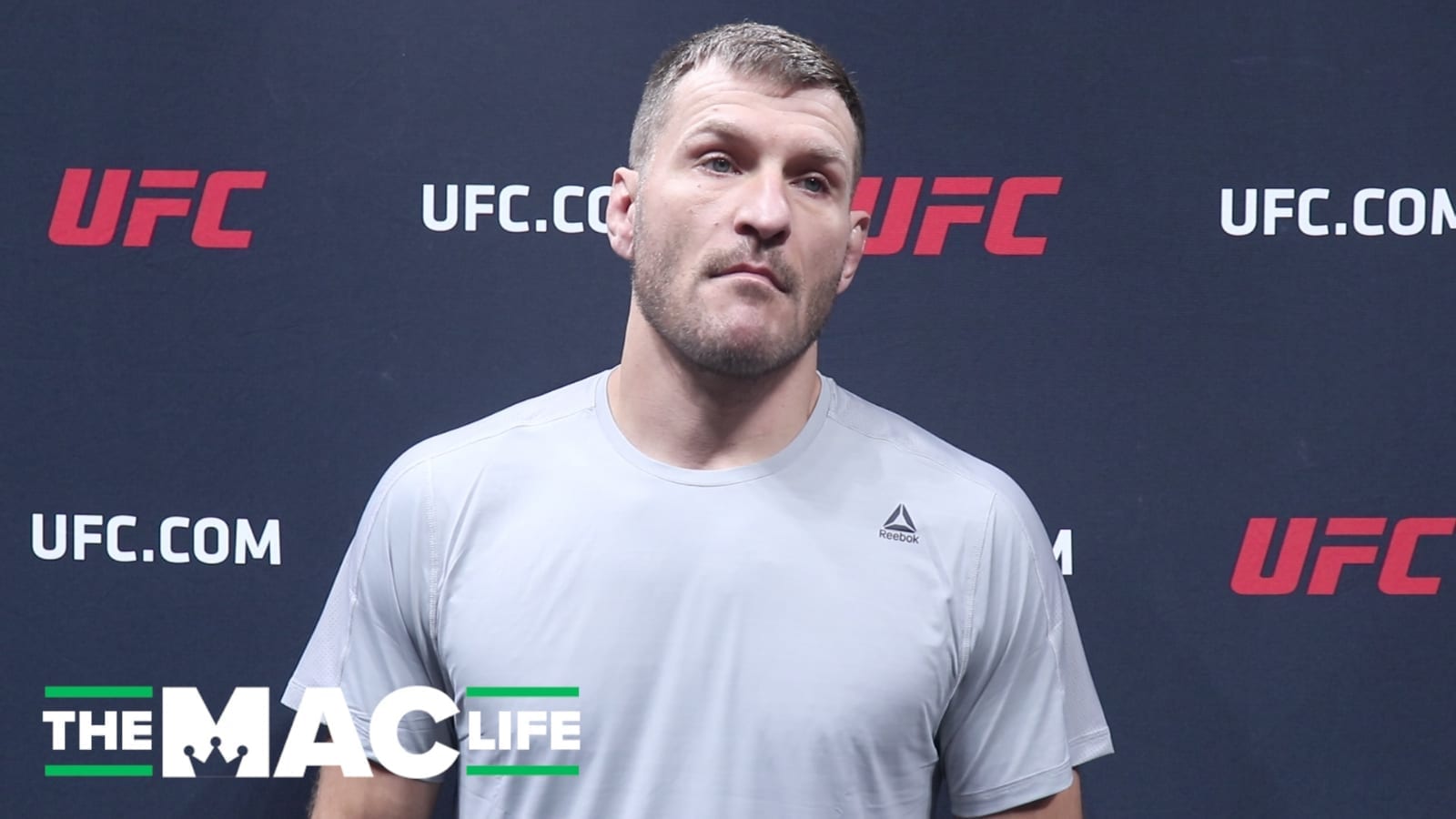 Stipe Miocic says he's happy to fight Daniel Cormier. He's just not doing it unless he's properly prepared.
The UFC heavyweight champion and Cormier have gone back and forth over the past few months, with Cormier clamouring for a trilogy fight after losing his title to Miocic last August. While Miocic says he's happy to grant Cormier that opportunity, he's adamant he needs a full and proper training camp — something he says is impossible in the current climate.
"I have no cage, no training partners, nothing," Miocic said, speaking to ESPN. "I need a full camp. I need to be back in the swing of things before I even get into camp, because that's how you get injured. I'm so used to training all the time and now I can't do anything. It's crazy. I have no training. There's no place for me to train.
" … Listen, I'll fight him. I never said I'm ducking him, or leaving, or running, or trying to fight someone else like he did. I'll fight you, I just can't train, dude. Let me make sure I can get a full camp, and I'm down.
"It's not going to be in August, I can tell you that. More like the Fall. Who knows if [COVID-19] comes back stronger, who knows? I'm down to fight him, I never said I wasn't. I have no idea what he's talking about. How am I going to sign a contract when I can't even train?"
Yesterday, Cormier made his latest challenge to Miocic, telling him to sign the contract and get the fight in the calendar — as well as making the cases for why the third fight won't go the way of the second.
"I'm a better fighter than Stipe Miocic," Cormier said, speaking on his "DC & Helwani" podcast. "I respect him, I think he's a great guy, I think he's a great role model, but I'm better than him. I just want to go prove it. I should've never lost to him. That is going to be one of my greatest regrets.
"I lost to Jones, but he was better. Stipe Miocic is not better than me, and that's going to be something I regret for the rest of my life, is letting him get a victory over me. It should've never happened."
Hey look at this, @stipemiocic.

I'm over here talking crap again. Don't you just wanna shut me up once and for all? How annoying am I, Champ? Please come prove me wrong! pic.twitter.com/GC90l2OmBl

— Daniel Cormier (@dc_mma) May 4, 2020
Cormier also went on to say he attributed his defeat to not respecting Miocic properly after finding success in the first few rounds before Miocic turned it around in the fourth.
Unsurprisingly, Miocic isn't buying that.
"He let up? I don't care who you are, I would never let up in a fight," Miocic said. "That's the dumbest thing I've ever heard. You're that dumb, you let up in a fight because you felt bad? Hey, whatever gives him confidence, good for him.
"Listen, late fall, whatever is fine. As long as everything works out and we can train and everything is open."
All in all, Miocic attitude can be surmised in one quote:
"He just wants to fight me so he can retire. Good for him, I'm not on his schedule."
Comments
comments