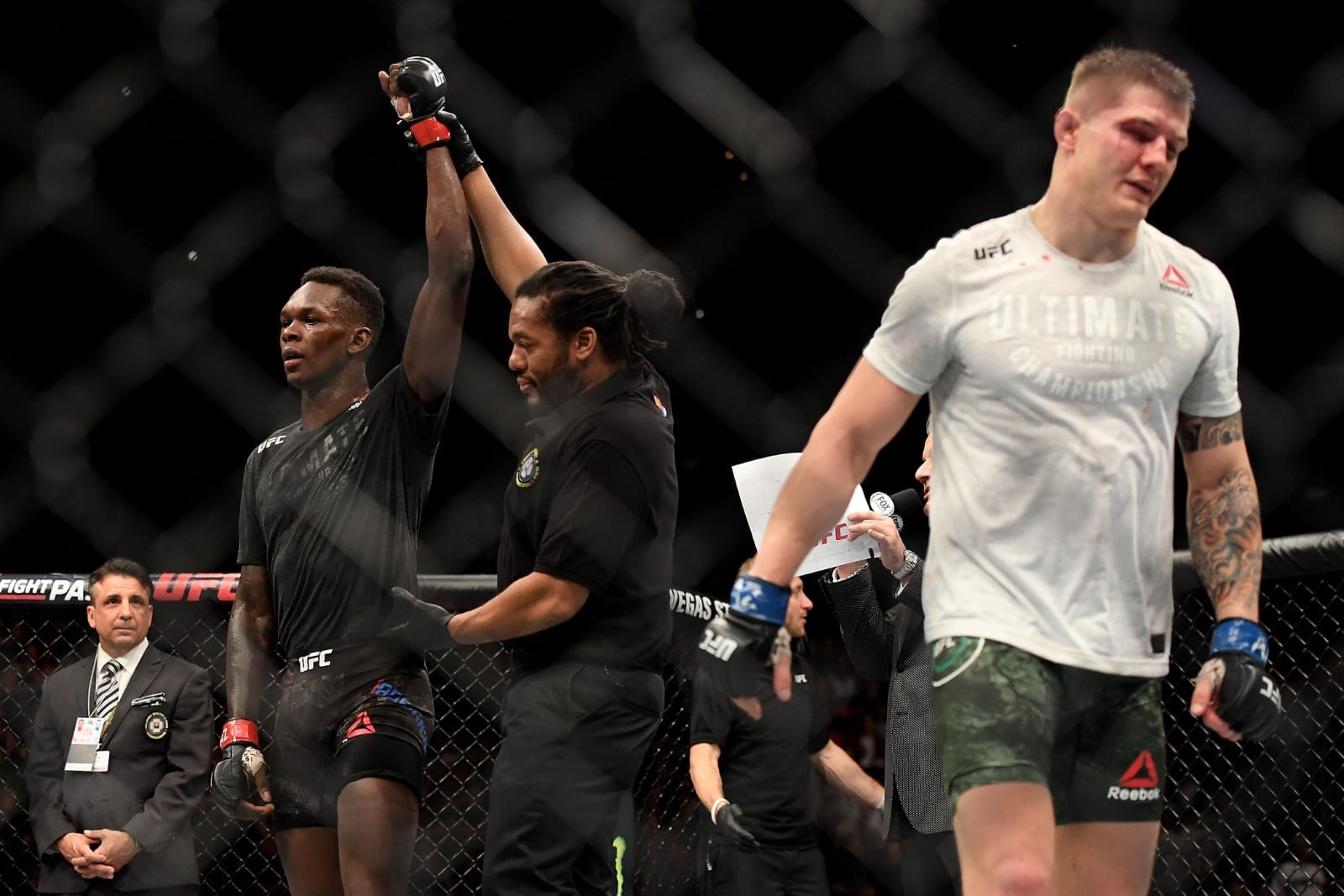 No man in the UFC has come closer to beating Israel Adesanya than Marvin Vettori, on the scorecards at least.
Italian middleweight Vettori, who faces Jack Hermansson in this weekend's UFC headliner in Las Vegas, lost a close split decision to 'The Last Stylebender' in what was Adesanya's second fight with promotion. Since then, Adesanya has continued his undefeated streak all the way to the middleweight title but Vettori, who is also unbeaten since that fight, is of the opinion that Adesanya should concentrate on matters at 185-pounds rather than chase a title in the division above.
"It's bullsh*t," Vettori said to the media during the event's virtual media day. "It's kind of bullsh*t. I think this guy just thinks he's too much, he just thinks like he can do whatever he wants. To me, he still didn't prove much. His last fight was good, but it was mainly like Costa beat himself going into that fight.
"The fight before, [Adesanya] he barely-Through my eyes, was basically one of the worst title fights ever and he basically lost against Yoel Romero. It didn't really prove much, but the media are all over him.
"The main thing, to be honest, I think there's not much great, hungry opposition in the top five at the moment. We've got Robert Whittaker just coming out of a win with Jared Cannonier saying that he's interested, but really not, he's just looking forward to enjoying Christmas, which is totally understandable.
View this post on Instagram
"But man, it was like October, November, of course you can enjoy, but at the same time if you're really about getting the title back you should be hungry for it. The No. 1 contender's not that hungry anymore and strong, real, hungry opposition is not there, and after Saturday there will be. He better stay and not play around at light heavyweight, this and that… stay and face me."
Vettori, who replaces both Kevin Holland and Darren Till who withdrew from the fight this weekend, against Hermansson and knows that the winner will be ideally positioned for a run at the championship — and wants that to come against Adesanya, given that he believes he can go one step further and beat the champ in a sequel.
"I think I'll beat him," Vettori said. "I'll overwhelm him. These guys go in and they underestimate him somehow or they get over their heads to go in overconfident. Adesanya is solid. You have to pressure him in the right way and I learned so much. I watched that fight not too long ago and I realised at that time I didn't know so much of what he knew, especially in the standup, and I still did so well just by instinct. Now that I see everything that he's doing and I've been studying him for a long time, it's going to be a whole different game now.
"Even in the standup, I know the things that he's gonna try to do and I don't know if he's gonna know what I'm gonna try to do, but I definitely can see whatever he's trying to do and plus I have a massive advantage with the grappling. I think it's going to be a completely different fight."
Comments
comments