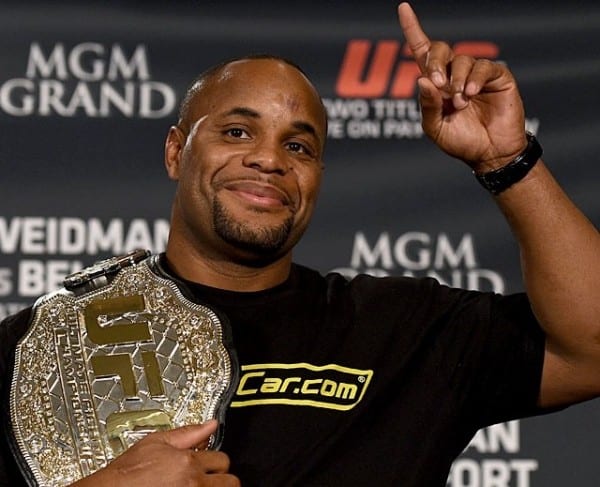 For the better part of four years now, Daniel Cormier and Jon Jones have been at each other's throats. 
The two have met twice in athletic competition, with Jones winning the first and knocking Cormier out in the second — though that particular bout came with a rather prominent caveat, given that Jones would fail a drug test in its wake.
With the time very much ticking on Cormier's career nowadays (he plans to retire in March) and a blockbuster bout with Brock Lesnar in DC's immediate future, it is uncertain as to whether he and Jones will meet for a third time.
Cormier, who of course holds the UFC's heavyweight and light heavyweight titles, has responded to Jones' recent comments in which he said that there was "no reason" to give Cormier a third shot at him — and he is certainly not happy.
"Giving me a shot?" Cormier wrote. "Seriously – giving me a shot? Here's the deal when it comes to Jones: It's hard for me to really take anything seriously because you say, 'I don't want to give you a shot,' and, 'You don't deserve it. I beat you.' He said he knocked me out, which he did, and you guys know I've always said he won the fight. He once put like a video up of a little girl kicking a girl in the head. I said, 'Look, man – she set that kick up perfect. But you were on steroids, dog. You can't use that.' It's the same thing.
"I'm sure USADA said, whatever, but you still had steroids in your system. It does not matter. You can't be on steroids in no way, shape or form. That's not fair."
Jones has been faced with a series of outside of the cage incidents which have limited him to just one performance per year since 2014. He is booked to face Alexander Gustafsson to determine the winner of (what will then be) Cormier's vacated 205-pound title in December and regardless of whether or not they end up crossing paths in the cage once more, Cormier says that Jones doesn't have the right to 'grant' him anything.
"For him to say, 'I don't think he deserves a title shot,' or, 'I'm not going to grant him' – who are you to grant me anything?" Cormier asked. "I'm the guy that's been here this whole time. Three years I've been the light heavyweight champion because this dude can't stay out of trouble.
"That dude actually got in so much (expletive) that they just said, 'Here, DC, you can have the belt back' last year after he knocked me out. Like, seriously, how crazy must the guy that won be for them to go, 'Hey, man, you can just have this back, seriously, because we know with you, (expletive)'s safe. That (expletive)'s safe in San Jose. With you, it's safe, but with this dude? Like, we don't know what he's going to do.' So they just gave it back."
Comments
comments