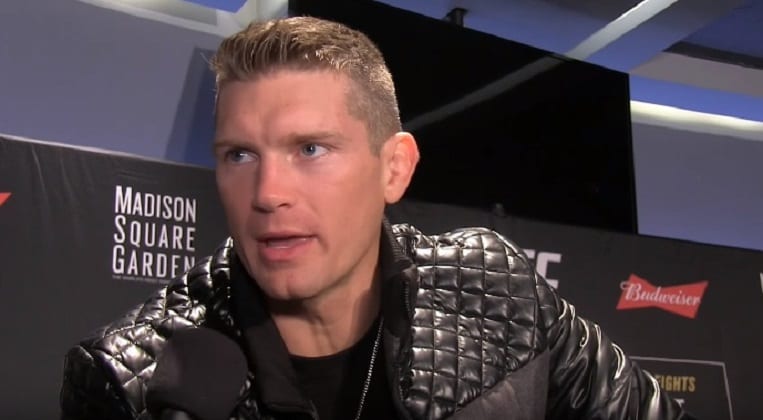 Earlier this week, UFC president Dana White set the imaginations of MMA fans alight after announcing Stephen Thompson would be facing up-and-coming Darren Till in England, in February.
Unfortunately, it didn't take longs for the fire to dampen, after Thompson's coach emerged to say that it wasn't a fight his charge was interested in as of right now. According to 'Wonderboy' himself, it's not quite as simple to say he's 'not interested', but after injuring his hands during a recent bout with Jorge Masvidal and taking a glance at the rankings, a contest with Till doesn't make sense.
"My phone was blowing up," Thompson said, speaking on The MMA Mad Podcast.. "'Stephen Thompson's fighting Darren Till, February 24', and I had no idea what was going on. I was like nobody's talked to me about anything. You know, I'm the number one contender now. I was the number two. I'll fight anybody, anywhere. As of right now, I just came off of the fight [with Masvidal], and I got two pretty jacked up thumbs, and that's the last thing I was thinking about, fighting Darren Till. I just fought the number four guy, as far as going back even farther and fighting the number eight guy.. I wasn't approached with it or anything, nobody talked to me about it.
"Darren Till, man, he's got some hype around him," Thompson said. "He finished Cerrone … I don't think it was the best Cerrone when Till fought him. You could kind of tell in his interviews, and the way he talks, you could tell he didn't want to be there. I don't know if you've had a chance to go back and listen to Cerrone before that fight, but he just wasn't the same.
"[Till's] a tough guy man, he's undefeated right now. I think sometime in the future we'll probably end up facing each other, which will be a crazy fight, two strikers. He's a high level striker as well, good boxer, good Thai stylist. But as of right now, man, he's number eight. I've got some jacked up thumbs. I think in the future it may happen though."
The jacked up thumbs that Thompson's referring to happened during the second round of his Masvidal round. While it initially appeared as if Thompson had broken his hands, a further examination showed the welterweight contender that it wasn't as simple as all that.
"I ended up nearly breaking both my thumbs on his skull in the second round," Thompson said. "The third round I could barely make a fist. I was just throwing my hands, I would just jam my thumb every time. … They're not broken, but I wish they were broken. It's even worse; I have some ligament damage in the thumb. I don't think it's as bad as Chris Weidman [who] had thumb surgery, and he has a scar that goes from the top of his thumb all the way down to the middle of his forearm. I don't think it's that bad, it's some partial tears.
"I have to have an MRI tomorrow, I went to this hand doctor today. My right hand, they wanted to put a pin and fuse … the second knuckle down together. I'm like 'nah man'. I'm not done fighting, I got many years ahead of me, I got to be able to make a fist. Because I tore a ligament in 2015, and I guess they thought it was fine, but my joint has shifted. I can make a fist and it's fine. I'll wait until my careers over if need be, if it gives me that much problem."
Comments
comments