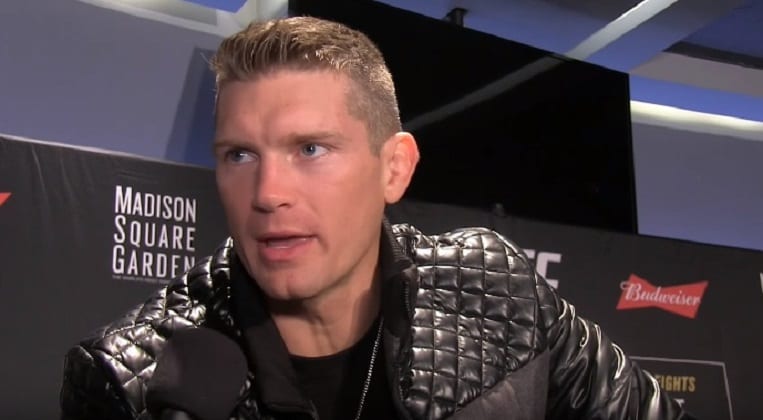 Reports emerged today via respected journalist Lance Pugmire of the Los Angeles Times which stated that Dana White has begun moves to transplant the upcoming February 24th UFC card from Orlando to Liverpool so that surging welterweight contender Darren Till could headline an event in front of his compatriots.
The rumoured opponent? Stephen 'Wonderboy' Thompson.
However, before anyone gets too excited by the prospect of two of the welterweight division's best strikers sharing the octagon together it would seem that reports of this fight being a done deal are a little premature.
As reported by Ariel Helwani of MMAFighting.com, Thompson's coach (and father) Ray Thompson says that he and his son have "no interest" in facing Till in the immediate future, adding that his son is seeking treatment for potential injuries sustained in his UFC 217 win against Jorge Masvidal. Thompson suspects that his son may have suffered two broken thumbs and/or ligament damage during the three-round bout in New York.
As quoted by Helwani, Ray Thompson said: "We've talked to no one [about fighting Till]. Not sure how this is a 'done deal.' As for Till, he needs to fight through the murderers row at welterweight like 'Wonderboy' did to get to the top.
"We want to fight forward. We've been calling out [Robbie] Lawler since before the first Woodley fight and have gotten crickets on it. Why? Why hasn't anyone talked to us about it? No one from the UFC, no one from Lawler's camp, no one. 'Wonderboy' had one of the most fantastic, exciting fights when he fought Woodley at UFC 205. That fight stole the show.
"The second fight was a snoozefest, mostly because Wonderboy chased Woodley around the Octagon for five rounds. We take part of the blame since we didn't pull the trigger often enough. Since then we feel like we are being moved out of title contention. Not saying that's the case but it sure looks that way. What happened to the rankings?"
While it does seem that Darren Till will headline a show in Liverpool on Feb. 24th, it appears that it won't be against Wonderboy. Our best bet? The winner of Mike Perry and Santiago Ponzinibbio.
Comments
comments