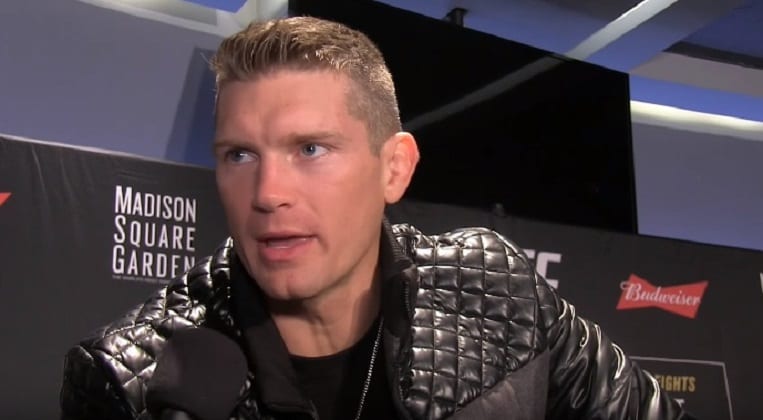 Stephen 'Wonderboy' Thompson says that he is entitled to UFC 291 'show' money after making weight last weekend for an ultimately cancelled welterweight showdown with Michel Pereira.
Pereira, the flashy Brazilian striker, missed weight by 3-pounds in Salt Lake City on Friday, prompting Thompson to pull out of the fight. The former two-time welterweight title challenger cited a previous fight with Darren Till, who also missed weight, as being a principle reason, as that fight derailed his title ambitions at the time — and he was concerned that Pereira would have had an unfair advantage in what is likely Wonderboy's last run at gold in the UFC.
But speaking to The MMA Hour, via MMA Fighting, this week, Thompson says he hopes that he will be rewarded for doing his part and showing up on weight.
"At this point my management is talking with the UFC," Thompson said, adding that he has been paid "nothing yet."
"I know Dana White's on vacation. That guy's a workaholic, so well deserved, but I feel like the UFC is going to do right by me.
"I've done everything that I am supposed to do. I tried to be as honorable as possible when it comes to signing my contracts and abiding by it and doing what the UFC has said. I've done what they've wanted of me, and I feel that they're going to do right by me. Things are still in talks. I think they're waiting for Dana White to come back from his vacation, and we'll go from there. But at this point, nothing."
View this post on Instagram
Thompson is generally regarded as being an ideal member of the UFC roster. He is more often than not in entertaining fights, and has never caused an outside-of-the-cage problem for the promotion.
"100 percent, yes, I'll be disappointed," Thompson said when asked how he would feel if he wasn't paid. "Who wouldn't be? When you show up and you're on point, and you have done nothing wrong and your opponent has. It would just really stink if that was the case.
"But me being the positive guy that I am, I feel like they're going to do right by me. That's why I'm still smiling right now.
"There should be something black and white in the contract," Thompson added. "So that way the fighter's covered if anything happens, you're covered.
"Because a lot of people don't realise what is involved in running a camp for a fight. How much money you spend, the people you bring in to train you, your coaches. I've got five coaches and plus a nutritionist, plus my physical therapy that I spend more on now. I was the oldest guy on the card actually this past weekend.
"You spend a lot of money on preparing for a fight. I try not to think about it, but people don't know how much you go through and how much a camp is. Just going through that for this to happen is crazy."
Comments
comments