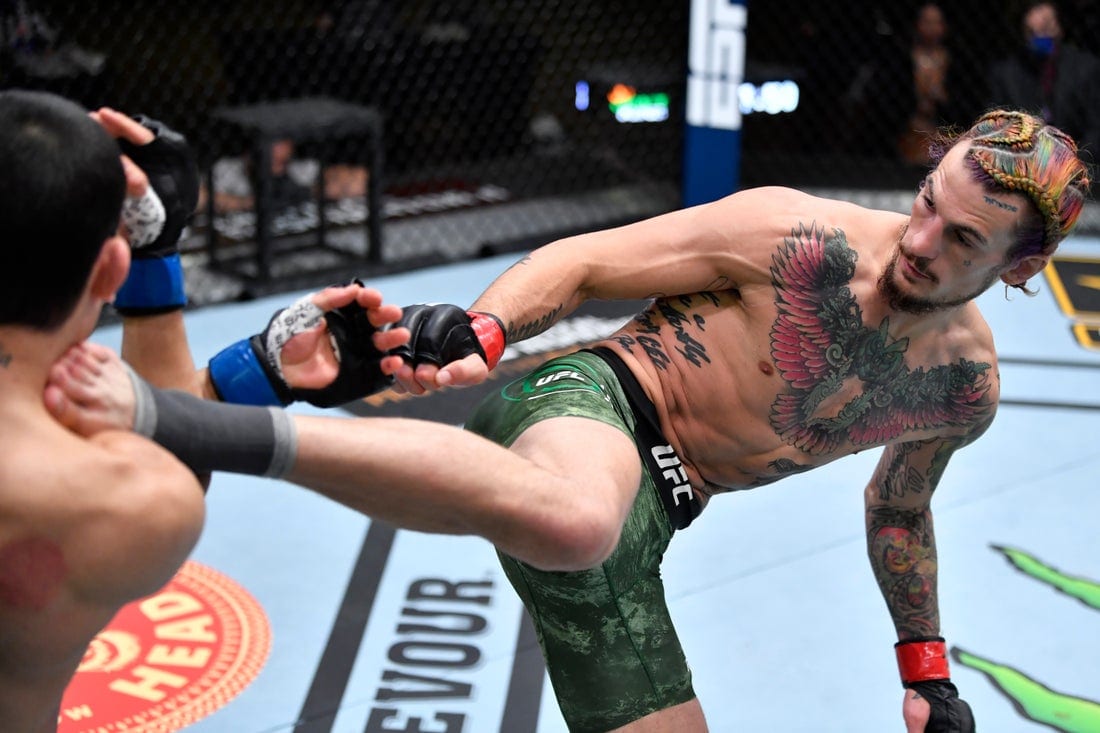 Sean O'Malley is forecasting big things for his future.
The 15-1 UFC bantamweight has been in impressive form in the five or so years he has been a member of the roster, wracking up a 7-1 record which included five finishes — and has been bested just once, losing via first round stoppage against Marlon 'Chito' Vera back in 2020.
But having rebounded from that first career defeat with a trio of knockout finishes, the most recent of which came against Raulian Paiva in December. The next episode of 'The Suga Show' comes at next week's UFC 276 where he will face his sternest test since the loss to Vera when he takes on the experienced Pedro Munhoz — but speaking to the media this week, O'Malley says that this is just the latest step on his path to being a two-division champion and global combat sports star.
"I'm eventually gonna go up to '45. Before I do that, I have to become the bantamweight champion. It has to be done," O'Malley said to Canal Encarada, as noted by Bloody Elbow. "I think I will, once I'm bantamweight champion, deserve and earn a title shot at '45. I believe I can become double-champ."
O'Malley has previously noted his admiration for Conor McGregor, who is the sport's most famous athlete to have tried his hand in the boxing ring and wants a similar achievement on his resume. His target? The unbeaten Gervonta 'Tank' Davis.
"And then I do think, in the future, Gervonta Davis sounds like a big fight for me," he said. "I would love to go over to the boxing world. I know people love it, they hate it, they don't want to talk about it. 'MMA never beats boxers.' But I'm in the entertainment business and I believe in my skills.
"I truly think that in four or five years, that if I'm double-champ, or if I've been the bantamweight, been the featherweight champ, and Gervonta Davis is still a superstar, there's no reason I can't go over there and perform for the fans in boxing and put his lights out, too and become the biggest combat sports athlete in the world."
Comments
comments