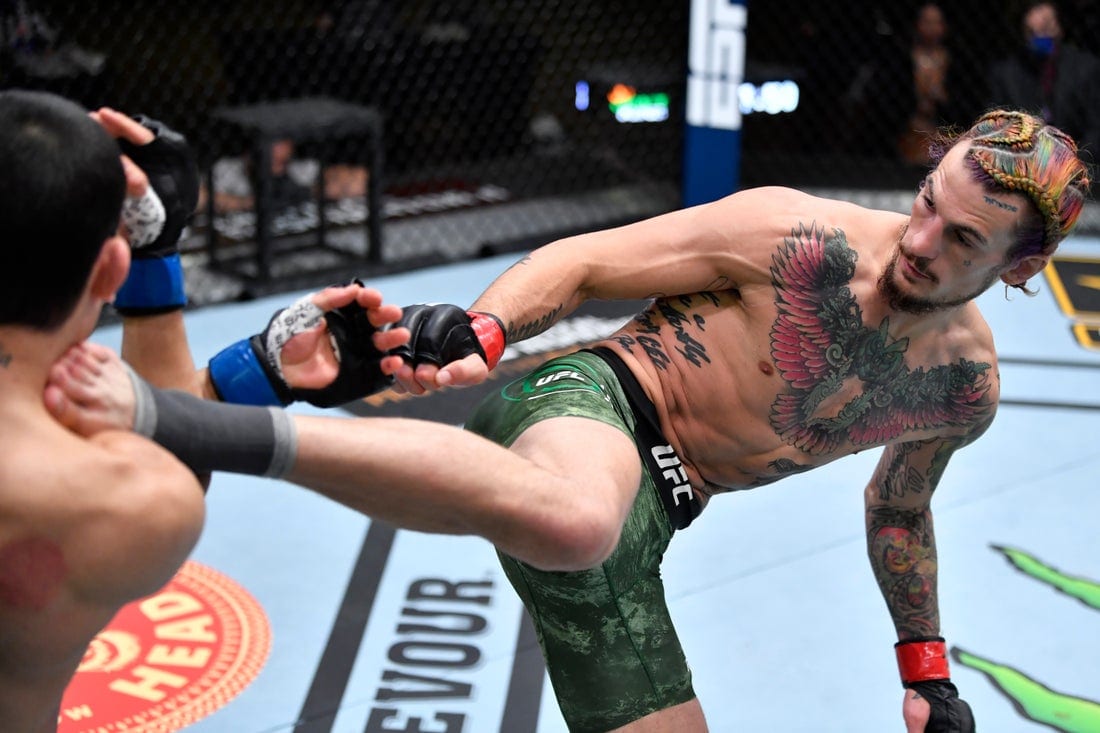 Neither man holds a world title at present but Sean O'Malley expects 2023 to deliver him a bantamweight championship fight with Marlon 'Chito' Vera.
O'Malley announced himself as a legitimate contender at 135-pounds in October when he won a close (and some say controversial) decision against former champ Petr Yan, but regardless of which way the judges went it was clear by the nature of his performance that O'Malley belongs towards the summit of the division.
The sole defeat on his record came in a fight opposite Vera in August 2020 during which O'Malley injured his ankle (or rather Vera injured it for him) and with Vera set to fight Cory Sandhagen in February, O'Malley said that he expects to see Chito in the cage agains soon — and probably with gold on the line, even if the champ Aljamain Sterling is expected to defend the belt against Henry Cejudo next.
"I'm excited. I'm going to go," O'Malley said of the Vera-Sandhagen fight on his podcast, via MMA Fighting.
"I'm going to sit front row, and observe and watch these two warriors compete… It is a sweet fight. It is at APEX but I'm not fighting so I don't give a f*ck.
"What's going to happen? I don't want to think too far into that," O'Malley added. "Cejudo: 'Marlon Vera is just a journeyman, not good enough to beat Cory Sandhagen.' You know what, that's not true. I used to call 'Chito' a journeyman, but that was before he beat all those good guys. I didn't think 'Chito' was going to get as good as he did, but he's gotten good.
"He's gotten really good, and nothing but respect for him. I hope he beats Cory, and Aljo beats Henry, Aljo moves up to 145, and me vs. 'Chito,' July, massive fight, for the belt.
"Or, Aljo beats Henry, comes back, I sleep Aljo like [Marlon Moraes] did, and then I beat up 'Chito. Either way, it doesn't matter to me, as long as 'Chito' gets the job done. I like Cory, but me vs. 'Chito' is a massive fight. Me vs. Cory anybody is a good sized fight. The biggest fight in the division is me vs. anybody, but me vs. 'Chito,' the people have been waiting for it, and it's getting closer."
As for how he specifically sees Vera and Sandhagen going, he expects Chito to get the job done — but that it won't be easy.
"I think Cory is going to bounce around, be fast — people look good against 'Chito' early," O'Malley explained.
"I feel like everyone kind of wins those initial rounds. F*cking Frankie Edgar won 14 minutes of the fight and then got head-kicked by that god damn toe. So I don't know. I'd say five rounds, small cage benefits Chito. If it was big cage, three rounds, I would probably pick Cory. I don't know. I'm excited for that fight. It's going to be a sweet fight."
Comments
comments