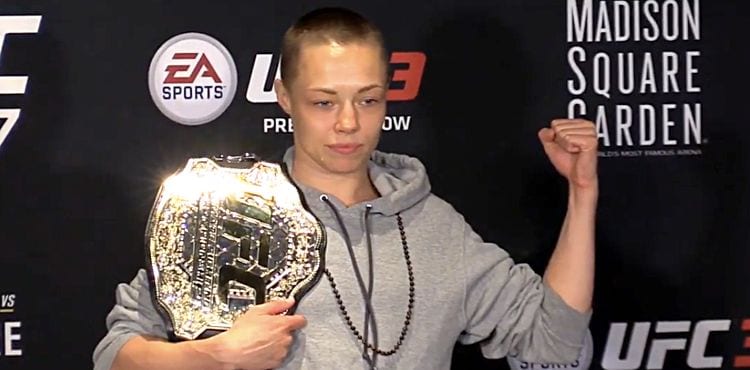 New UFC women's strawweight champion Rose Namajunas isn't convinced she should be granting Joanna Jedrzejczyk an immediate rematch for the 115-pound title.
Namajunas stunned MMA fans by defeating Jedrzejczyk in the very first round of their UFC 217 contest last Saturday via TKO. While some may have suspected Namajunas could have been a game opponent for the Polish striker, it's fair to say few believed she would have beaten Jedrzejczyk on the feet so decisively.
Apparently, Namajunas wasn't surprised. Indeed, the one-sided nature of the contest tells the new champion that Jedrzejczyk might need to work her way back into title contention, despite her phenomenal title run.
"I think she might need some time to process this herself," Namajunas said of the former champion to TMZ. "That was brutal. I was clean, decisive, no fluke, no nothing. So a rematch right away.. we'll have to see. I'll have to talk to the UFC."
Ahead of the contest, Jedrzejczyk made multiple comments towards Namajunas regarding the then-contender's mind set and mental toughness. Claiming Namajunas wouldn't be able to handle the duties that are expected of a champion. But while there were harsh words before the contest, Namajunas revealed Jedrzejczyk was nothing but complimentary once the final bell had rung.
"She came up and congratulated me afterwards, and said 'all the best'," Namajunas said. "That's that. This is a job, I had a job to do, I couldn't get emotional about it. Of course I don't agree with getting all personal and stuff, that's not my style, but that's what she's got to do to feel comfortable getting in that cage.
"That's what she's got to do, and I just expected it so I'm not going to attach no feelings to it."
Comments
comments