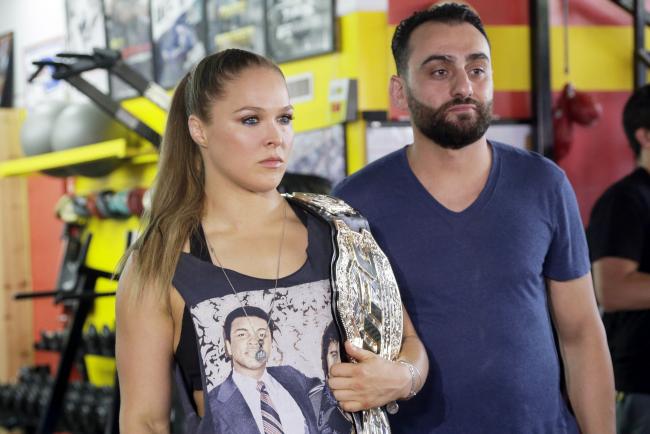 Ronda Rousey has not been seen in the cage since her loss to Amanda Nunes last December, and it looks increasingly likely that her mixed martial arts career is truly over.
Practically living outside of the spotlight lately (albeit with a recent trend of appearing at professional wrestling shows), Rousey's public comments regarding her MMA future have been precisely nil. While UFC president Dana White has stated that he feels his former champion is 'done', Rousey and her closest circle have remained silent.
Until today. On Monday's edition of The MMA Hour, Rousey's coach Edmond Tarverdyan made a rare appearance to discuss his longtime charge. While he acknowledged Rousey's interests are moving on from MMA, Tarverdyan did say he'd like to see Rousey take on one more contest — specifically longtime rival Cris Cyborg.
"That's the one," Tarverdyan said. "I want that fight. When I trained Ronda, I know Ronda could beat Cyborg. I know that. Cyborg is too slow. … We'll live and we'll see. If injuries weren't there and everything was where it was, we would take that fight and I'm telling you she's too slow for us. And Ronda will beat her. Ronda needs a challenge that she really needs to be like this person is no good and I need to prove something to the whole world. That's how Ronda works good.
"And she didn't have that with Holly, she's the one that pushed and wanted some aggressiveness before the weigh-ins. This one she has it. She said she cheated before, she's hurt women and she wants to come and beat her."
Rousey and Cyborg have a long storied past. The two biggest names in women's mixed martial arts, particularly while Rousey reigned supreme, the duo had numerous public spats through the media, with Rousey criticising Cyborg's previous steroid use and Cyborg claiming Rousey was too scared to fight her.
At one point, any fight between the two would likely have been the biggest fight in UFC history. With that context, and the fact that Rousey appears to be considered past her best by the UFC fans, Tarverdyan believes she would do the work to get one last win.
"That's why if she wants to make a comeback and get one fight, I think she will do the best she's ever done and I think she'll be victorious," Tarverdyan said. "Because I know Ronda's personality, because she's happy right now and she has a good challenge in front of her that she focuses on. I think whatever she wants to do right now, she can do. It's in her mind."
—
Comments
comments