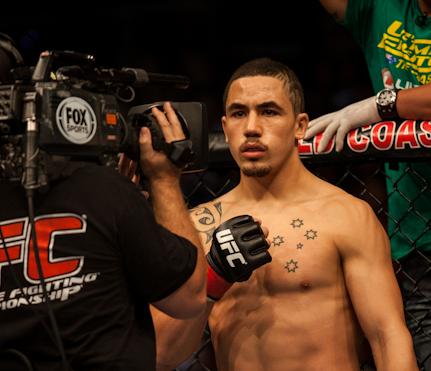 Georges St-Pierre's return to mixed martial arts (and subsequent victory) last Saturday night has suddenly put the cat amongst the pigeons.
While his next fight has yet to be confirmed, signs are beginning to point to St-Pierre staying at his new division of middleweight to defend against the UFC interim champion Robert Whittaker.
And it just so happens that Whittaker is as excited as anyone to see St-Pierre back. He's just one of the few who is in contention to fight him.
"I can't even put it into words," Whittaker said to News.Au. "I was a massive fan of him when I was younger — and when I was at welterweight as well. Every welterweight in the world aspired to become something like him. If I got the privilege of fighting him? Man, dream come true."
All respect between @GeorgesStPierre and @robwhittakermma backstage. Rob a huge fan. #UFC217 pic.twitter.com/gZiYwPisa0

— Jai Bednall (@jaibednall) November 5, 2017
But while Whittaker is a huge fan of St-Pierre, he's not exactly coming across as nervous about his chances should the two end up clashing in the UFC Octagon.
"To be honest, he looked slower than he's ever been," Whittaker said. "He's just as crafty. You can see the intelligence is still there. His fight IQ is still there. He obviously hits harder at middleweight. But I hit hard and I hit fast — and much harder and faster than Bisping. And I have much better defense than Bisping. So it looks good.
"I'm happy to wait. Fighting a legend like that is worth the time. My wants have to go on the back seat a bit for him. He's a living legend and in respect I'll do that. But if he's going to hang around at middleweight we'll touch gloves eventually. I'm confident."
Thx for a gr8 week NY. @danawhite @bisping @GeorgesStPierre wat
an amzing fight! GSP lets unify anywhere anytime. B an honor champ #anywhere

— Robert Whittaker (@robwhittakermma) November 7, 2017
—
Comments
comments