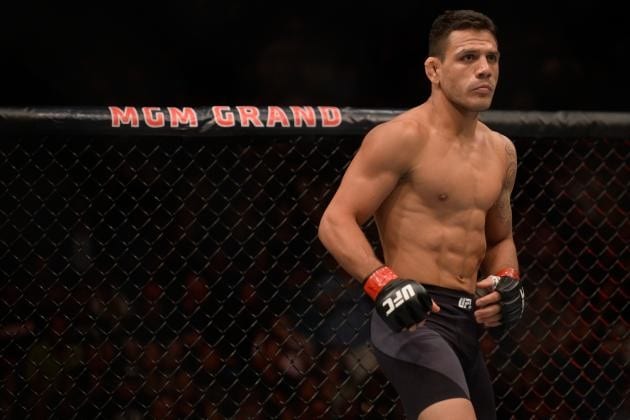 When Rafael Dos Anjos defeated Robbie Lawler last year, most assumed it cemented his position as the number one contender to UFC welterweight champion Tyron Woodley's title. 
However, even with UFC president Dana White's apparent agreement, Woodley himself has shown nothing but disinterest in a contest with the Brazilian. Instead — as he has done for much of his reign — Woodley has instead voiced his preference to face names such as Georges St-Pierre and Nate Diaz.
Now, with Diaz apparently being on board with a Woodley clash, you get the sense that Dos Anjos' shot at the 170-pound title is slipping away. Certainly, Dos Anjos himself is getting a little annoyed at the champion's attitude.
"Tyron Woodley is only thinking about money," dos Anjos said, speaking with MMAFighting. "Of course that everybody wants to make money and needs money, but he's running away from logic. He's trying to force his hand and making a fight that makes no sense."
@TWooodley man up and stop talk about fight that make no sense, everyone know that I'm the real contender. You want to fight a guy that has never beat a real welterweight in his whole life. Shame on you…

— Rafael dos Anjos (@RdosAnjosMMA) February 7, 2018
Diaz has been inactive since his famous fight with Conor McGregor back in 2016. While that bout was at 170-pounds, Diaz originally made his name at lightweight. Because of that, Dos Anjos simply can't find the logic in having Diaz' name connected to the champion.
"He can't fight in this weight class, and Woodley is trying to force this fight," dos Anjos said. "[Woodley] was willing to fight Nate Diaz while injured, needing to undergo surgery, because he knows it's an easy fight and he can win without one arm. I think it's wrong to hold the entire division like this."
"He's trying to get an easy fight and stay on his TV and radio shows as a champion, he wants this status. He doesn't want to fight someone motivated as myself, someone on a roll. He wants to fight someone that will bring him money. Nate Diaz is more popular than me. I've achieved more things than him in my career, but Nate Diaz is more popular, so if this fight happens now it's not about who deserves it more, but who's more popular. He definitely wants an easier fight."
I'm not his friend, family or anything close. I'm his foe. Could give a care less about his patience. I'll deal with him after I finish my scrap with @NateDiaz209 go fight Qweefington if you are impatient and bored https://t.co/Yh4ZS7BGTi

— Tyron T-Wood Woodley (@TWooodley) February 7, 2018
–
Comments
comments