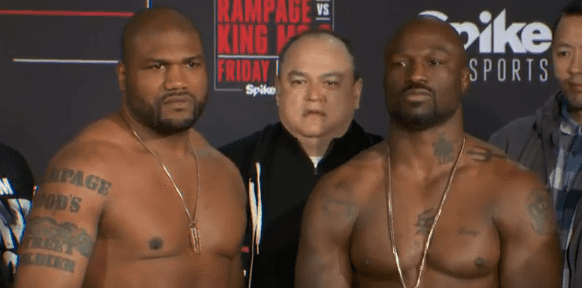 Quinton 'Rampage' Jackson has weighed in 41-pounds heavier than his Bellator 175 opponent King Muhammed Lawal.
The two are set to face each other tomorrow evening in a heavyweight fight, and it's clearly a division that Rampage sees himself getting comfortable at. Jackson, a former UFC light heavyweight champion, hit the scales at a fairly hefty 253-pounds, just 12-lbs under the heavyweight limit.
In comparison, King Mo came in at just 212-pounds.
It marks an interesting end to an odd saga for Jackson and his weight. Last week during a media call to promote the event, Jackson was left confused after appearing to believe the contest was scheduled as a catchweight bout — only to be corrected by Lawal himself.
"Guess what? You ain't fighting me at heavyweight," Jackson said on the call. "You fighting me at a catchweight."
"No. Heavyweight, player, ain't no catchweight here," Lawal shot back. "It's at heavyweight, dog. Two-sixty-five is the weight class. Heavyweight. I don't do no catchweights."
"Wait, wait, you're telling me I can weigh 265?" Jackson then asked. "Is this what you're telling me?"
While the weight advantage now clearly lies with Jackson, it potentially raises more concerns than positives. Rampage has gone on record recently about his dislike for mixed martial arts, even stating in one interview that he wishes he never entered the sport.
While a heavier Jackson means a heavier punch, it does beg the question regarding his motivation for this fight, the last bout on his Bellator contract.
Comments
comments