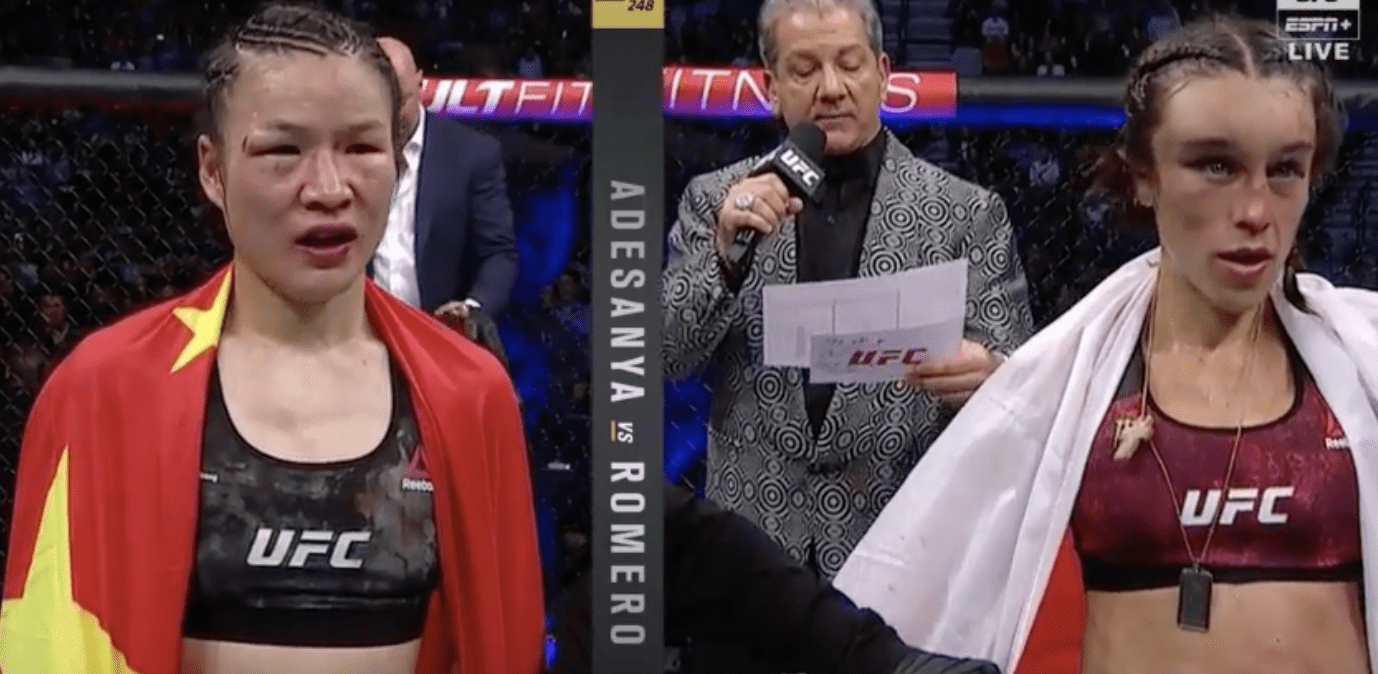 Tonight in Las Vegas, Zhang Weili and Joanna Jedrzejczyk went through 25 minutes of hell during their strawweight title fight.
In the end, it was Zhang Weili who emerged victorious, but as is the usual in epics, no one can truly be called a loser.
Check out what some of the two women's colleagues had to say about the affair.
FUCKING INCREDIBLE FIGHT!!!!!!

— Dana White (@danawhite) March 8, 2020
Best fight I ever saw.

— Platinum Mike Perry (@PlatinumPerry) March 8, 2020
Incredible fight !! Bravo ladies #InternationalWomensDay https://t.co/VMRXpFRYze

— Jessica Eye (@jessicaevileye) March 8, 2020
@joannamma is the winner at this fight !

— Valentina Shevchenko (@BulletValentina) March 8, 2020
THAT was a FIGHT FIGHT!!!
Both women fought like monsters and champions. Congrats to both!#UFC248

— Corey Anderson UFC (@CoreyA_MMA) March 8, 2020
What a WAR between @joannamma and the chinese machine @zhangweilimma ?! 🔥🔥🔥🔥
Congrats to both of them 👏👏👏#UFC248

— Francis Ngannou (@francis_ngannou) March 8, 2020
Amazing fight!! Congratulations to Zhang! #UFC248

— Leslie Smith (@LeslieSmith_GF) March 8, 2020
AMAZING!!! #UFC248 pic.twitter.com/VqIsMY1kz0

— Stephen Thompson (@WonderboyMMA) March 8, 2020
That was my favorite fight I've ever seen holy shit #UFC248

— Katlyn Chookagian (@blondefighter) March 8, 2020
Respect to both ladies.

— michael (@bisping) March 8, 2020
Holy shit!!!! What a fight!!!! @MmaWeili and @joannamma #ufc248

— Raquel Pennington (@RockyPMMA) March 8, 2020
What a fight !! I don't even care who wins ! #UFC248

— JIMI MANUWA (@POSTERBOYJM) March 8, 2020
this is not a woman's sport 🤦‍♂️

— Makhachev Islam (@MAKHACHEVMMA) March 8, 2020
–
Comments
comments