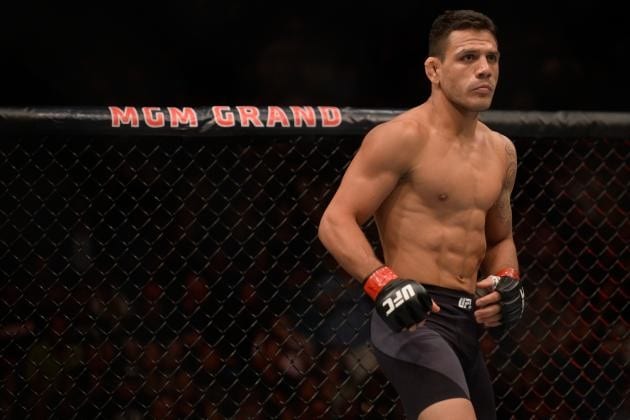 Tonight at UFC Rochester, Kevin Lee had a rude awakening as he moved up to the UFC's welterweight division and met Rafael Dos Anjos.
The two men went back and forth in a grueling battle until the fourth saw a fading Lee fall short on a takedown offence, and then Dos Anjos use the effort to his advantage, finding a submission and forcing the tap.
Check out what some of their colleagues had to say about the encounter.
Kevin Lee always seem to slow down a lot after this first exchanges— wrestling exchanges. He punches are looking weathered already after such a beautiful start to the fight. #UFCRochester

— Aljamain Sterling (@FunkMaster_UFC) May 19, 2019
Grueling fight between Lee & Dos Anjos ! 😬 #UFCRochester

— Derek Brunson (@DerekBrunson) May 19, 2019
Beautiful display of MMA and heart from both these guys. Amazing fight. @ufc @RdosAnjosMMA @MoTownPhenom

— Kyle Bochniak UFC (@KyleBochniak) May 19, 2019
Good fight @RdosAnjosMMA I look forward to earning a fight with you one day #Oss

— Platinum Mike Perry (@PlatinumPerry) May 19, 2019
Congrats @RdosAnjosMMA

— Michael Chiesa (@MikeMav22) May 19, 2019
#RDA had time to get use to 170lb. I can see @MoTownPhenom having a lot of success at welterweight once he gets use to competing bigger

— Platinum Mike Perry (@PlatinumPerry) May 19, 2019
Wow that was a grind, congrats to RDA for a hard fought victory! #UFCRochester

— Angela Hill (@AngieOverkill) May 19, 2019
-
Comments
comments