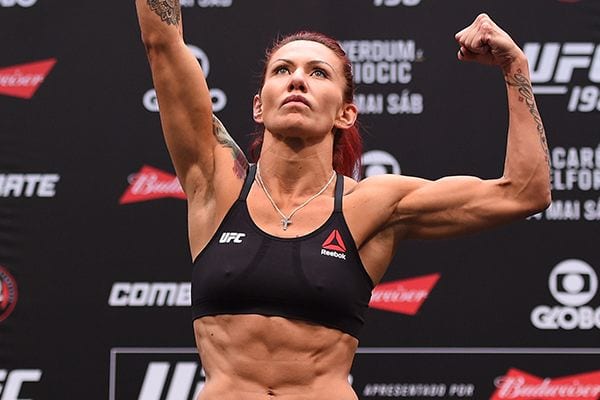 If there's one thing Cris Cyborg does well, it's win fights in devastating fashion.
Her victory over Yana Kunitskaya in the main event of UFC 222 was no exception. Cyborg came out strong, hitting Kunitskaya with an overhand right and dropping the challenger almost immediately. While Kunitskaya did well to fend off the onslaught for a while, Cyborg would not be denied, and eventually earned herself a first round finish.
Check out what some of Cyborg's fellow athletes had to say.
Drinking game: if Cyborg doesn't finish her in the first round take a drink. And then order another $30 worth of liquor and finish it #ufc222

— Angela Hill (@AngieOverkill) March 4, 2018
Cyborg destroys yet another opponent. #ufc222 pic.twitter.com/FaXgV1DSau

— The Spartan (@EliasTheodorou) March 4, 2018
Congrats @criscyborg you are a fucking beast! 👊🏾👊🏾👊🏾 really enjoy watching you fight! #ufc222

— Brad Tavares (@BradTavares) March 4, 2018
She's AMAZING @criscyborg Parabems!! #UFC222 #CyborgNation 🙏🏽

— Jessica Jag Aguilar (@jagatt) March 4, 2018
Such a big mismatch. I felt wrong just watching that.
Short notice.
Went up a weight class.
Damn bro.#UFC222

— Aljamain Sterling (@FunkMaster_UFC) March 4, 2018
Congrats @criscyborg you are a fucking beast! 👊🏾👊🏾👊🏾 really enjoy watching you fight! #ufc222

— Brad Tavares (@BradTavares) March 4, 2018
Yana is holding on for dear life… I would too. #ufc222

— Mike Jackson, Esq. (@TheTruthJackson) March 4, 2018
She's AMAZING @criscyborg Parabems!! #UFC222 #CyborgNation 🙏🏽

— Jessica Jag Aguilar (@jagatt) March 4, 2018
CONGRATS @criscyborg #andSTILL #UFC222 https://t.co/DMZVuAdWJC

— Marion Reneau (@BelizeanBruiser) March 4, 2018
–
Comments
comments