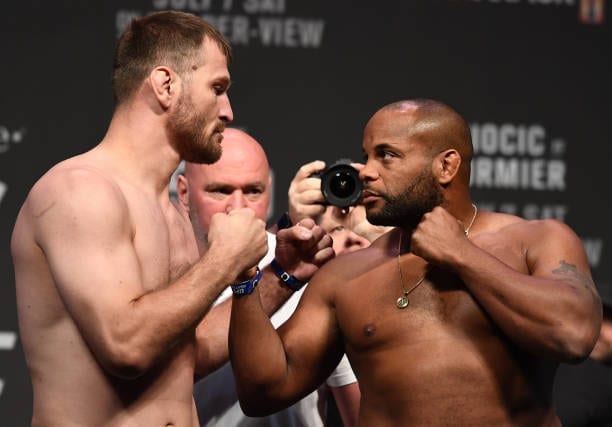 Tonight in Las Vegas, Stipe Miocic and Daniel Cormier went at it to decide who was the best heavyweight in UFC history.
In the end, it was Stipe Miocic who earned a judges decision after five grueling rounds. While it was close, Miocic found more adjustments from their previous brace of bouts, and it was enough to retain his world title once again.
As usual, their peers were glued to the TV to offer their own thoughts. Check them out below.
you boys ready for blood?

— BONY (@JonnyBones) August 16, 2020
Strange times, I'm on the edge of my seat

— BONY (@JonnyBones) August 16, 2020
Let's go @dc_mma

— Brandon Gibson (@SixGunGibson) August 16, 2020
#ufc252 what a fight !! Both men leaving in there 👏🏾

— U R I A H H A L L (@UriahHallMMA) August 16, 2020
Damn, what a fight!

— Funky (@Benaskren) August 16, 2020
Everyone would be on their feet!!! #UFC252

— Michelle Waterson (@karatehottiemma) August 16, 2020
What a fight

— Big Ben Rothwell (@RothwellFighter) August 16, 2020
Heavyweight world championships I will be seeing you real soon. Victorious

— BONY (@JonnyBones) August 16, 2020
That was a good ass fight #UFC252

— Kevin MTP Lee (@MoTownPhenom) August 16, 2020
Tough fight DC, we still love you.

— Funky (@Benaskren) August 16, 2020
This is exciting for me

— BONY (@JonnyBones) August 16, 2020
I scored it 4-1 I think 3-2 is fair though

— Matt Brown (@IamTheImmortal) August 16, 2020
Congrats champ and congrats champ. Both men should be very proud.

— michael (@bisping) August 16, 2020
What. A. Fight. Great fight to end the trilogy. Both guys gave it their all! Man. #ufc252 @ufc @dc_mma @stipemiocic

— Stephen Thompson (@WonderboyMMA) August 16, 2020
Avoid Stipe's right hand, I'm too fast, I'll be too strong when the time is right and have way too much energy. Soon and very soon I'll be considered the baddest man on this planet

— BONY (@JonnyBones) August 16, 2020
–
Comments
comments